---
Discovery Channel is Looking for a Few Good Growers
---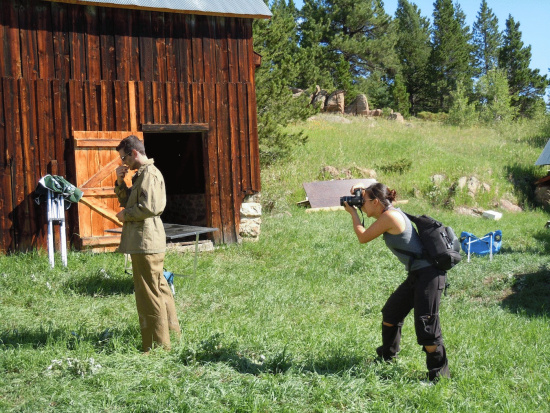 A documentary film crew hired by the Discovery Channel is searching for a grower to explain his or her perspective on what they do for a living. Several producers have been in the area for months seeking access to the cannabis culture. "Everybody has been extremely friendly and open to telling me their story but nobody is willing to go on camera," said Kimberly Allen, a freelance producer for Hoggard Films, a company that is creating the several part piece for the Discovery Channel.
The program is conceived to be three one hour specials with an on-the-ground focus illuminating current marijuana issues in Humboldt Co. One crew has been following the Sheriff's Dept. (as confirmed in a July Times-Standard article) and another crew will be filming growers. "We're keeping things completely separate," Allen explained. Her crew will be working only with the grower. This is to make certain that the grower's information will not be accidentally made available to law enforcement and vice versa.
Basically, Allen says, they want to show a "slice of life" of Humboldt's cannabis cultivators and, in order to do that, the crew is "willing to go to great measures" to help protect the grower. Allen stated the show is open to allowing any degree of anonymity including having the person wear a bandana, a mask or even be blurred. The company is even willing to allow the grower to "literally look through the lens" in order to ensure that shots are tightly controlled and only what the grower is comfortable showing is filmed. Allen explained, "We don't want to capture anything that they don't want to be aired."
Allen believes that her crew has the expertise to deal with the safety of the growers they hope to film. "Everybody out here," she asserts, "…have quite a bit of experience with subject matters requiring extra sensitivity either for safety or security reasons. That is one reason why we all got called from Hoggard to be on this show. Like myself, I've done shows with… illegal topics and people who could not be shown or couldn't be known for a lot of reasons. I've done shows involving gang members…I know my …camera guy… is coming off a highly, highly sensitive subject matter in South America about …big time drug smuggling. …I feel like we're experienced enough and …truly get what we're asking people to do—enough to have a large amount of care and respect in handling this."
Eager to find the right person, the producers have resorted to various ways of getting the information out about who they are looking to find. Last week, they even posted an ad on Humboldt's Craigslist but, according to Allen, "it only stayed up for a couple of days and then was 'flagged' and removed." Even here, some people find growers talking publicly, albeit anonymously, shocking.
Allen noted, "We hope to show a true glimpse into a variety of growers' lives. The unfortunate truth, however, might be that we can't find the growers needed to film with us. I'm afraid, in that case, this opportunity to share a different side of the community could pass by."
See below for the press release on how growers can contact Kim Allen.
________________________
Photo of Kimberly Allen (on right above) provided by her.
Below is the press release offered by Allen:
Hoggard Films, an Emmy award-winning production company,
in association with Discovery Channel is looking for growers
to be in a documentary television special. This is NOT a reality
show. We are looking for people to show a 'slice of true life' into
the world of growers, including the job, lifestyle, risks/rewards,
challenges, views, etc. This is a chance for the grower community
to have a legitimate voice and to share with the world who you
are and your side of the story. We know many of you have been
burned by previous media coverage and are sick of watching the
same old story on TV. Here's your chance to change it. We are
documentarians, we do not tell stories, instead we find people to
tell their own stories, in their own words.

Complete anonymity is possible. We are willing to do
whatever it takes under your terms as to how/where/
when/who and what we film.

We will invite each grower to be their own director, telling us how
we need to proceed in order to keep everyone as protected and safe
as possible. Identities and locations will be concealed with extreme
sensitivity and care. The film crew is extremely small and will
work under a low profile.

The program's airdate will be after the season ends.
If you're interested please call to discuss details.

707-273-7908
---
SHARE →
---
---