---
Showers Pass Rd Pot Raid—Eight Greenhouses
---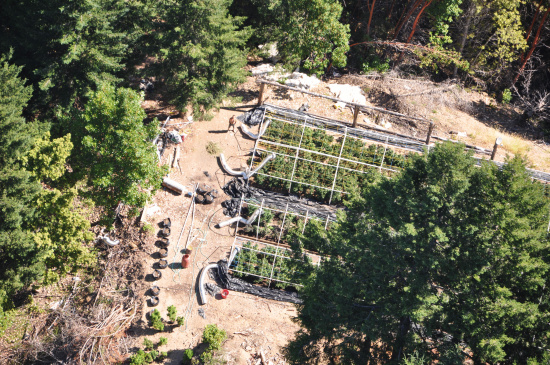 Humboldt Co. Sheriff's Press Release:
On 08-8-2012, approximately 8:30 a.m. the Humboldt County Sheriff's Office Criminal Response Unit (C.R.U.) served a Humboldt County Superior Court Search Warrant in the Showers Pass area of Humboldt County. While enroute to serve the warrant deputies saw one of the suspects driving on Showers Pass road, near the search warrant location. Deputies stopped the driver, identified as David Collenberg, 30 years old, from Eureka. When speaking with Collenberg, deputies saw a .357 revolver next to the driver's seat. The revolver was loaded. Deputies were aware Collenberg is a convicted felon and was prohibited from owning a firearm. Collenberg was arrested for being a felon in possession of a firearm, carrying a concealed firearm, and carrying a loaded firearm in a vehicle and was transported to the Humboldt County Correctional Facility to be booked on those charges.

Deputies continued driving towards the search warrant location, and saw another person suspected of being involved in the case they were investigating. He was identified as Grady Longacre Jr. 35 years old from McKinleyville Longacre Jr. was driving an excavator when deputies contacted him. Longacre Jr. had Winchester Rifle with him on the excavator. Deputies were aware Longacre Jr. was prohibited from owning a firearm. He was arrested for possession of the firearm. Deputies proceeded to the search warrant location where the warrant was served. When deputies arrived they located 961 growing marijuana plants in eight greenhouses on the property, approximately $1,800.00 dollars in US currency, along with 33 pounds of dried and processed marijuana. When deputies searched the residences on the property they located two inoperative diesel powered marijuana grows.

Deputies served additional warrants on 08-08-2102 on two residences owned by Collenberg. One of the residences was located in the 6000 Block of Myrtle Avenue, Eureka and the other in the 5000 block of Union Street, Eureka. Deputies located inoperative indoor grows at both locations.

Longacre Jr. was booked into the Humboldt County Correctional Facility on charges of possession of a firearm by a prohibited person and possession of marijuana for sale. Collenberg bailed out of jail before deputies could add additional charges of possession of marijuana for sale. Those additional charges will be sought through the Humboldt county District Attorneys Office.

Anyone with information for the Sheriffs Office regarding this case or related criminal activity is encouraged to call the Sheriffs Office at 707-445-7251 or the Sheriffs Office Crime Tip line at 707-268-2539.



---
SHARE →
---