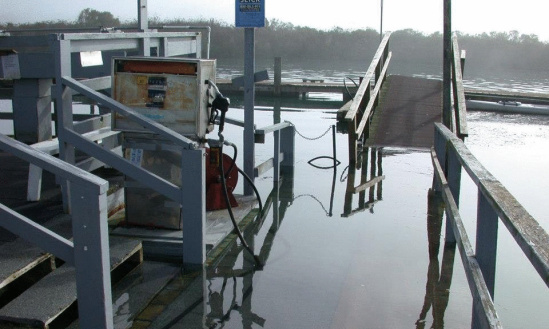 King Salmon filling station during last month's King Tide. Photo: Jen Kalt, Baykeeper
Tomorrow's the day! With a monster tide of nearly nine feet predicted for roundabout 10:30 a.m., the Pacific Ocean is scheduled to visit low-lying, previously dry land all over the county nether regions.
Humboldt Baykeeper is going to be out there documenting this largest high tide of 2012, and not only because it's going to look cool and weird. The King Tide gives us a little sneak peek of what the county might look like every day, more or less, a few decades from now.
Baykeeper is looking for volunteers to help get full photo coverage of the spectacle. Going to be near the bay sometime near zero hour tomorrow? Can you be? Hook up with Baykeeper at their Facebook event page, email KingTidePhotos@gmail.com or give a ring — 268-8897.