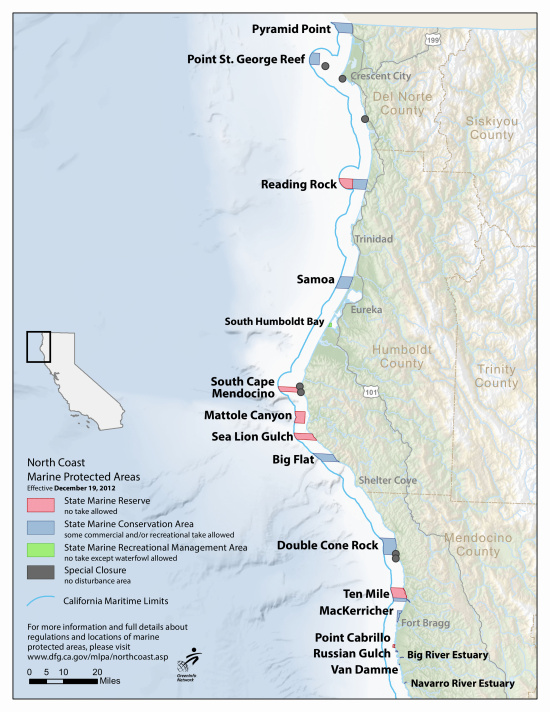 Today, Wednesday, Dec. 19, 2012 is not the best day to visit one of the new North Coast marine protected areas. The waves are big (the 22 buoy is showing 14 feet at the moment), the wind is picking up (13 mph, gusts to 21 mph), more rain is on the way (up to a quarter inch) and this is only the beginning of the storm.
But today is the day that the marine protected areas are, at last and officially, real.
Spanning from just south of Fort Bragg up to the Oregon border, the 19 underwater parks encompass about 137 square miles – 13 percent of the North Coast region. This leaves 87 percent of state waters in our area available for fishing, seaweed harvesting and abalone diving, while protecting places that include Pyramid Point's dynamic coastline, Point St. George Reef – home to the second largest nesting seabird colony south of Alaska – and waters at the mouth of waterways like Ten Mile River that are critical for salmon and steelhead populations.
A quick recap of how we arrived here:
Local fishermen, divers, tribes, business owners and conservationists put aside their differences and created a single, unified proposal of where the new marine protected areas should go. A huge part of the conversation centered around ensuring traditional non-commercial tribal uses will continue with no additional restrictions in the 13 State Marine Conservation Areas, areas in which limited recreational and commercial fishing will also be allowed.
Not only does today mark the implementation of the North Coast underwater parks, but it signifies the completion of the entire network, from the Oregon border to the Mexican border, confirming California's leadership in ocean protection. Scientific studies show that well designed marine protected areas have a greater diversity of species, making them more resilient, and more and bigger fish and other sea creatures, relative to fished areas in similar habitat. Because big fish have more and healthier young, these areas can be engines of productivity – a great investment in the state's economic future.
This calls for some celebrating! So when the ocean calms down, the skies lighten and the wind relaxes to a gentle breeze, take a visit to one of your new underwater parks. Enjoy the beauty of our coastline and the knowledge that the sea critters living within have new and necessary protection.
Tune into KHUM's Coastal Currents today at noon for an overview of the specialness.
I write more about this great day on The Blog Aquatic.
A natural resources educator waxes eloquent in the Press-Democrat.
Today's L.A. Times has coverage, too.
NRDC: An Ocean Legacy to Make Californians proud details the story of the MLPA from inception.
For more details on the Marine Life Protection Act, visit www.dfg.ca.gov/mlpa or www.caloceans.org.
Jennifer Savage is Ocean Conservancy's North Coast Coordinator, Pacific Programs.