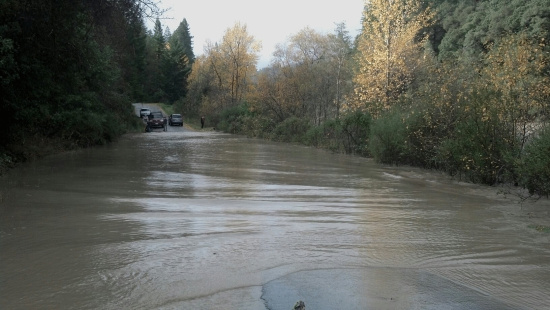 Photo of Kimtu Road near Garberville provided by Cinnamon Paula
UPDATE 12/3: KMUD's indomitable Terri Klemetson says that the Garberville sanitation district has called off the water restrictions. Thanks for helping keep the tank full.
———————-
Roads across Humboldt and beyond drown beneath nearby rivers and creeks. Below are photos and new information about the results of the storm.
Cinnamon Paula says of the Kimtu Road, "There was actually a local there with a canoe shuttling people back and forth if needed. One person told us that he had gone to town about 9am and there was a little water on the road, he came back less than 2 hours later and it looked like this, about 3 feet deep in the middle."
The Eel at Fernbridge has risen to 22.56 feet (as of 7:30 P.M. Flood stage is 20 feet. The latest photos still show cars crossing the bridge but the Sheriff's office says that the river could hit 24' and the bridge may be closed later this evening. Here are graphs showing where other rivers in the area are at this time and how this compares with earlier predictions. Again, here is the Sheriff's Office's earlier update on the roads.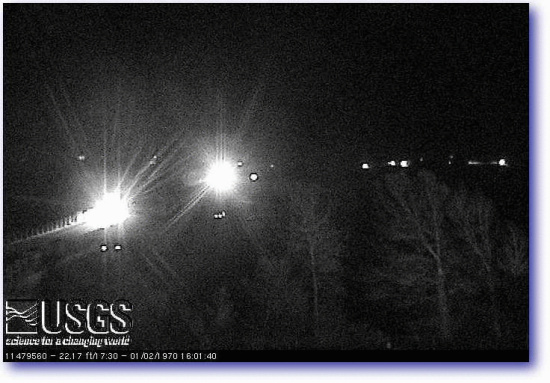 Photo from the USGS Webcam at Ferndale.
The Lost Coast Outpost is receiving multiple reports that Hwy 36 at Carlotta is not passable for small cars though large trucks apparently went through earlier. Monica Schill wrote, "…[Hwy] 36 at the Carlotta Firehouse is still flooded. The locals were towing a small car out of it as we headed home. Our full size truck made it through a couple of hours ago, but I would not recommend driving a car through."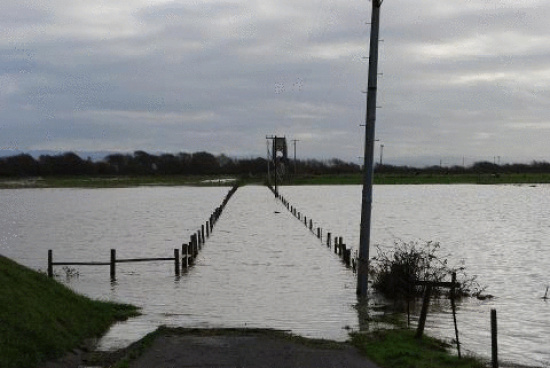 Hammond Trail Trestle above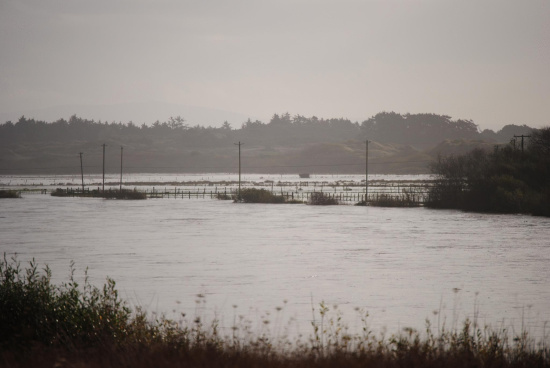 LoCO reader Phillip Hooker who provided the above photos explained, "Mad River is out of it's banks west of the new 101 bridge. This picture was taken from the end of School Road in McKinleyville looking south to the Lanphere Dunes area. It looks like you could probably canoe from Mack Town to Humboldt Bay via Mad River Slough… or close to it.
According to KMUD's Terri Klemetson, the Garberville Sanitation District says,

UPDATE 8:53 PM [MD]:
Dave Feral sent in some more photos of the Mad River: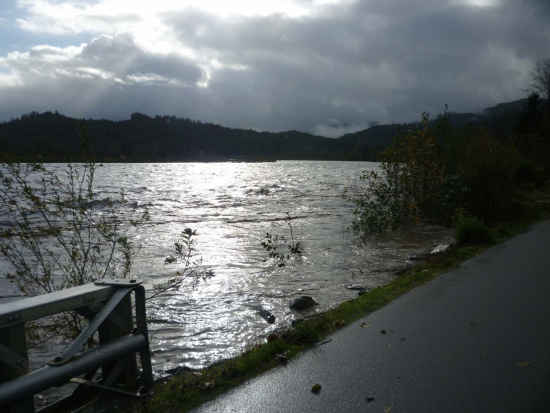 The Mad approaches Hatchery Road.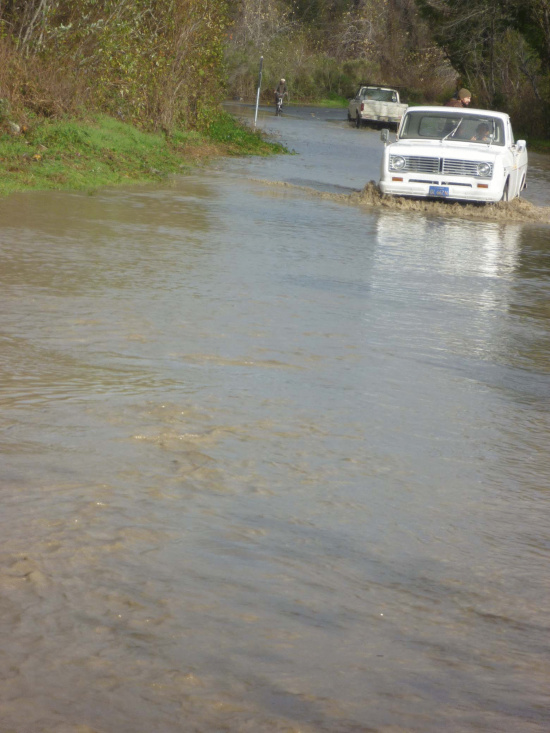 Mad River over unspecified road.