Here's the last installment of our look back on the Web traffic that was 2012. (You can find the first two installments here and here.)
We have some more year-in-review type of stuff coming up next week, but for these things we have to wait for the year to actually end. In the meantime, and on behalf of Kym and myself and all of the Lost Coast Communications team, let me thank you readerfolk for an immensely successful, gratifying year on the ol' website. Lots of stuff on tap for 2013.
Your Top 5 LoCO stories of 2012 are:
5. EPD Looking for Repeat Suspect in Armed Stop 'n' Shop Robberies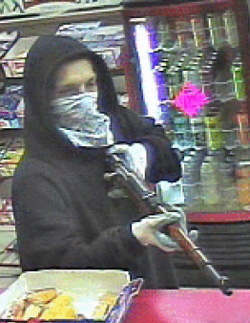 Sometimes you just never know, do you? To us it was just a routine press release from the EPD. Repeat armed robbery at the perpetually armed-robbed Stop 'n' Shop. Police looking for suspect.
What we didn't realize is that the weapon used in the second of this suspect's heist was of particular interest to the gun-passionate segment of online society.
A Russian Mosin Nagant, for a liquor store knockover?
That's straight-up hilarious!
We were Freeped. We were Democratic Undergrounded. We were multiply Tumblrd and Gunboarded and etc., etc. As the months pass, this post rises and falls in spikes as some new corner of the shoot-o-sphere discovers the Great Eureka Nagant Heist, or forgets about it and rediscovers it again.
If you like this post, you really, really like this post. It's the salted licorice of Lost Coast Outpost stories.
4. Wear Green for Geddie—A Memorial for the Young Man and His Parents Swept Out to Sea This Weekend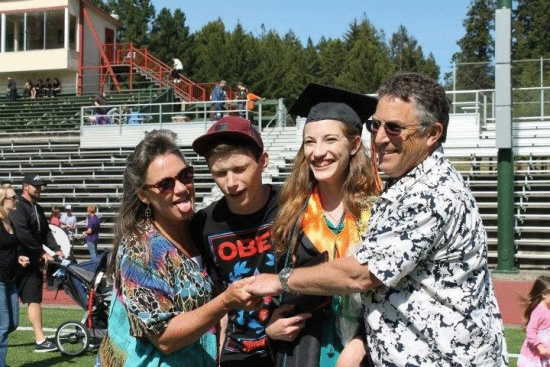 On Saturday, November 24th, Thanksgiving Weekend, a local family drowned in an attempt to save each other and the family pet. While Olivia Kuljian watched, her brother Geddie, and parents, Howard Kuljian and Mary Scott were pulled out to sea and lost. The community grieved and local students were heartbroken. The young people rallied together on Facebook with a campaign to "Wear Green for Geddie." The cause brought people together from across the country to express their sorrow.
Emmalaya Owens, one of Geddie's friends, reflected that the event was a success. She said, "Almost the whole school was wearing green and I know a lot of the community was too, I heard that people all over the world were wearing green that Monday… ."
While for some the events are a fading memory, according to Owens, most of Geddie's classmates remember him sharply. She explained that sometimes "its nice and comforting to share stories about him, but its harder to talk about recent reality… . It's been very confusing emotionally, especially for us that have never gone through grief before."
However, she believes "…the best way we can honor them is to live …life with all that fullness they should be experiencing."
A fund has been set up to help Olivia Kuljian at Coast Central Credit Union, account #182671. — Kym
3. Goodbye, Mom and Pop: 35 Large-Scale Grow Operations in the North Coast Backwoods

For many non-backwoods people — your humble correspondent included — our slideshow of Drug Task Force flyover imagery was the first real introduction to just how much the weed industry has changed over the years. Just four months later, the term "megagrow" is part of everyday conversation around Humboldt County, but when we first saw these photos, we were like: "What? Huh? Damn! JEEBUS H. CRIPES!"
We got wind of the existence of these photos a week or so before we published them. Sgt. Wayne Hanson of the Humboldt County Drug Task Force happily snail-mailed us a CD of them when we requested it. And that's kind of the whole story.
Except for the fact that these things were published just as the push to look the environmental impacts of the megagrow was just getting rolling. Did this post, which was apparently seen by every person I passed on the street for the next few weeks, influence the conversation? Sure seems to have. It has influenced a pretty high proportion of conversations I've since had, I can tell you that.
2. Body Found Near Piercy by Local Family
— and —
1. Skeleton in Sneakers Excavated on Halloween Day
When a local family found a pair of pale shoes rising out of a hidden forest grave right before Halloween, the story captured quite a bit of attention. A body being found so close Halloween made the Mendocino County sheriff's department understandably skeptical. According to the wife of the man who found the body, law enforcement didn't respond at first when they left a message about their gruesome find. And when a deputy did show up, she said, "He seemed suspicious that it might be a Halloween joke…. first thing we did was give him the bones…. and show him the pictures. He totally believed us at that point… ."
The timing of the terrible discovery made our two stories — Body Found near Piercy by Local Family and Skeleton in Sneakers — caught a tidal wave of attention from Reddit and other sites. The titles were number two and number one respectively in our 2012 stories.
LoCO followed up on the story this week hoping that some clues had been revealed about the mysterious human remains. Sheriff Tom Allman said that we weren't the only one anxious to get answers. "We're waiting to get the results back from the anthropologist," he explained. His officers had hoped to get information two weeks ago. However, he said, "These anthropologists are the real deal" and can't be rushed.
The CSU-Chico Human Identification Lab who are working on the case are unreachable by phone because the university is on winter break. —Kym