The fellow in question doesn't change it up all that much — new gun, but the same bandana and hoodie. See below: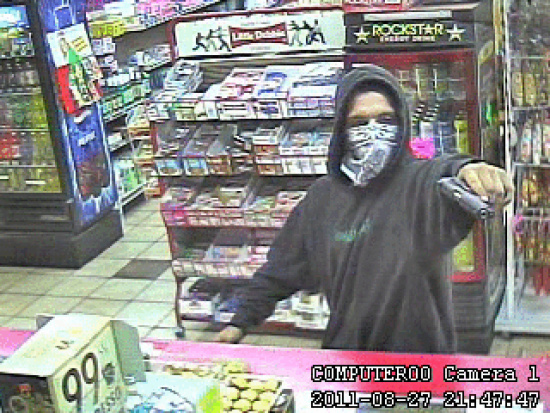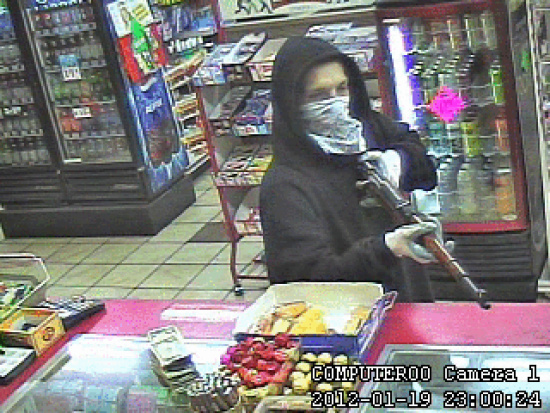 From the Eureka Police Department:
The Eureka Police Department's Criminal Investigative Services are investigating a pair of armed robberies that appear to have been committed by the same person. Eureka Police Department Detectives are looking for citizen's assistance identifying the suspect.

Both armed robberies occurred at Stop and Shop in Eureka. The first armed robbery occurred on August 27th, 2011 at about 9:47 PM. The suspect brandished a handgun at the clerk.

The second armed robbery occurred on January 19th, 2012, at about 9:57 hours. The suspect brandished rifle at the clerk.

The suspect in both robberies, appears to be a white or white mixed race male, about 5' 9", with a slender to medium build. The suspect in both robberies wore a dark colored hoodie with the hood up and a white bandana covering his lower face. The bandana in both robberies appears to have the same markings. In both robberies, the suspect brandishes his firearms with his left hand.

The handgun used in the first robbery appears to be a "1911" style, large caliber, semi auto. The rifle used in the second robbery appears to be one of the many models of Russian Military Mosin Nagant, bolt action high, powered rifle.

I attached several still photographs taken from the two surveillance videos. Anyone with information about the two robberies should contact Senior Detective Ron Harpham.