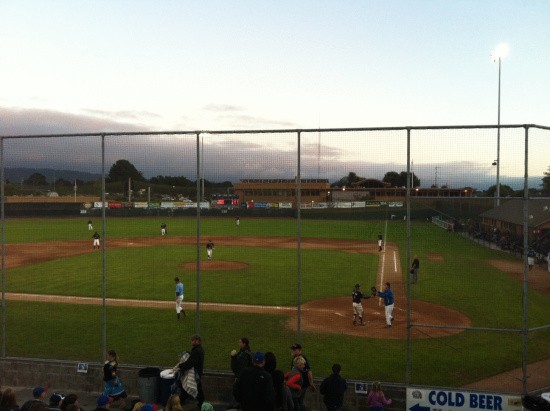 UPDATE, Saturday morning: After several tense tied innings, the Crabs won!
Tonight, join the Humboldt Crabs for the first installment of their Hall of Fame:
After 67 years of great baseball the Humboldt Crabs have decided to roll out their Hall of Fame. There are ten inductees this year who were chosen by a small Selection Committee comprised of baseball aficionados. The Crabs will be recognizing the following inductees during Alumni Weekend on Saturday, July 28th at 7 PM:

Ned Barsuglia – Board Member, General Manager from 1965 to 1995.
Bob Bonomini – Player: 1958 to 1971.
Lou Bonomini – Player, Manager for 42 seasons, & Founding Member. He scored the first run in Crabs history.
Adam Carr – Player: 2002 to 2005.
Steve Fish – Player: 1994 to 1996.
Mike Harkey – Player: 1985.
Dane Iorg – Player: 1969.
Reco Pastori – Player: 1945 to 1956.
Greg Shanahan – Player: 1967 to 1970.
Don Terbush – Founding Member & PA Announcer from 1959 to 1995.

The 1985 team will also be inducted due to their amazing season of 51 wins and only 3 losses.

So please come on out to the Arcata Ballpark on Saturday, July 28th for the 7 PM ceremony to give these Hall of Famers the appreciation they genuinely deserve.

Alumni Weekend and the Hall of Fame Ceremony Schedule:

Saturday, July 28th vs Fontanetti A's at 7pm

3:00 – Alumni Batting Practice (the coaches will help with this)

4:00 – Alumni Group Photo in Left Field

4:15 to 5:00 – Crabs (2012 team) Batting Practice

5:00 – BBQ in Right Field (by Dave Reed, includes 2012 team)

5:00 to 5:45 – Fontanetti's Batting Practice

7:00 – Hall of Fame Ceremony

7:15 – National Anthem, first pitch, & game time
Final game is Sunday (tomorrow) with the Far West League Playoffs happening next weekend. Tickets and info at humboldtcrabs.com.