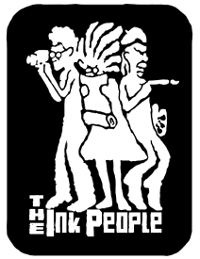 You probably know about The Ink People, a totally cool Eureka nonprofit that has been doing good cultural work for the community for over 30 years.
The Ink People have been suffering a bit lately. The 2010 earthquake hit them hard, forcing a relocation from their old digs at the Eureka Muni. Now they're looking at a budget shortfall for the upcoming year, and they're hoping supporters can dig deep to help get them through.
The good news? An anonymous benefactor has promised the organization a $10,000 matching grant, which would cover half its current deficit. If the Inksters can raise another $10,000, all is golden.
There follows a message from lead Ink Person Julian Lang. Take a moment to check it out. If you do have any extra money around, you could do far worse than to send it their way.
Greetings from the Board of Directors of the Ink People Center for the Arts:

Together with our staff and many artists of all ages who visit and work at our facility in Old Town, I am writing to ask for your help.

As our fiscal year comes to a close, we are facing a $20,000 budget deficit, which has left us struggling to keep our doors open. A generous anonymous donor, who knows the situation, has promised to match all donations up to a total of $10,000. If 100 of our wonderful friends donate $100, we will meet our goal.

Since we lost our home due to the 2010 earthquake, we have also lost revenue from classes and workshops.

This is a critical time for the Ink People and we need your help now more than ever. A donation to the Ink People of $100 will make a world of difference for the arts locally.

In order to truly weave art into the fabric of this community, The Ink People offers its support to the Rural Burl Mural Bureau and MARZ Project, our at risk teen programs, and more than 60 community-initiated DreamMaker projects.

These groups use art to build community, offer services for youth, support traditional cultural practices, present performances to the public, develop art and technology practices, foster literary exchanges, and provide gallery and studio spaces.

We remain incredibly excited by all the creative energy that abounds here in Humboldt County and look forward to renewing many of our programs, as our situation allows.

Thank you again for supporting the Ink People in the past. I hope you can support us today as well. Please give what you can and we encourage you to share this letter with your friends. Your support will help keep the Ink People alive and supporting creativity in Humboldt for many years to come.

Thank you very much, Julian Lang, President, Ink People Board of Directors

P.S. I encourage you to read the North Coast Journal article that outlines the extensive challenges we have faced over the past few years. You can read it online at:

http://www.northcoastjournal.com/arts/2012/02/02/shaken-and-stirred/