---
The Lost Coast Outpost Recommends: Jared Huffman for Congress
---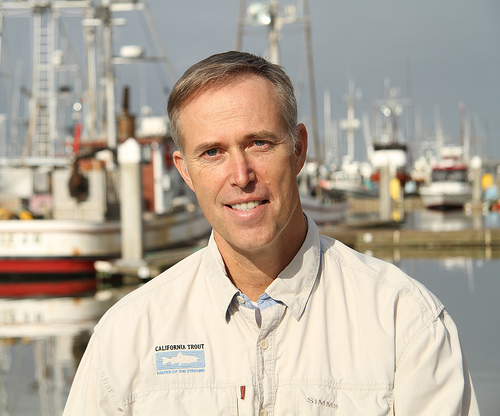 Political discussion often remains confined to blogs and talk radio, the opinion pages and comic strips – until election season hits. Suddenly, our vote is being courted. The political becomes personal as we evaluate candidates through the filter of our own lives.
Me, I'm a fan of accomplishment. When I look over all my years of raising children, working multiple jobs and volunteering for various causes, it's the practical achievements that have kept food on the table and a roof overhead. Without concerted effort, good intentions, sweet as they may be, fall short.
While we have no lack of well-meaning candidates (or candidates, period!) in the June 5 congressional primary, only one offers a record of actual legislative success on the critical issues of equality, education, health care, job creation and environmental protection. For those of us who want tangible results from our vote, Jared Huffman is the obvious choice.
Take a look:
1. Equality
As a longtime supporter of Six Rivers Planned Parenthood, of course I want a representative similarly committed to protecting safe, legal access to birth control and other health care. Given Huffman's 100 percent career voting record on women's rights in the state assembly, we can expect he'll keep fighting for us in Congress – and with the current Republican "War on Women," the stakes are far too high to trust to someone inexperienced.
His commitment to gay and transgender rights is no less impressive: among other pro-fairness measures, Huffman has supported marriage equality legislation, voted to allow transgendered individuals to obtain new birth certificates reflecting their change in gender and helped ensure the bill that created "Harvey Milk Day" passed the California Assembly.
2. Education
Over the course of three kids and nearly two decades, I've witnessed the never-ending budget cuts reduce once thriving classrooms into a place where everyone's on edge about simply surviving. Even the best teachers, administrators and aides suffer under these conditions – remember when California's schools were something to boast about? Not only has Huffman authored a number of education bills, he's fought against attacks on school funding and helped make sure school busses continue serving rural areas. As his actions in the state assembly show, we can expect him to continue working toward salvaging America's public education system from the damage "No Child Left Behind" has wreaked.
3. Health Care
In general, I believe health care fits into the "life, liberty and pursuit of happiness" ideals we strive to embody in this country. On an extremely personal level, I spend a significant amount of time worrying about my son's Type 1 diabetes. Health care isn't negotiable in his case. Promises aren't enough. I need someone who not only understands the life-and-death implications of failure, but has repeatedly demonstrated commitment to ensuring universal health care and will defend the Affordable Health Care Act in Congress.
4. Job Creation
Despite the rhetoric, neither Congress nor the candidates running for it can actually "create" jobs outside the government sector. But what a smart, dedicated elected representative can do is create and advocate for legislation that fosters economic growth and expands job opportunities – just like Huffman has been doing here in California. Building bipartisan support for bills aimed at improving the economy through job creation while staying dedicated to environmental protection is a tightrope few can walk.
Some of the most telling evidence of Huffman's ability to gather folks from all sides can be seen locally in the co-chairs he assembled (including Jimmy Smith, the nicest, most-admired Humboldt County Supervisor of all time). Between them all, we have fishing and forestry representatives, advocates for senior citizens, library aficionados and experienced policy-makers – a cross-section of good people of our county uniting behind the same guy. As local political observers know, that doesn't happen here nearly often enough.
I'm tired of divisiveness. We live together in this beautiful place. Let's help each other out. Huffman will represent a broad swath of North Coast residents, not just a single demographic. That might upset some people, the ones who think only their issues matter, but we need cohesion, not conflict.
5. Environment
Huffman's achievements on the environmental front are many and impressive. If you care about any particular part of our world – ocean, rivers, forests, wildlife – Huffman's done something to protect it. His accomplishments in this particular field are so great, in fact, that anyone who spends time and energy advocating for environmental protection should see Huffman as the obvious choice.
We don't have time to waste. We do have a candidate skilled in crafting and, most importantly, ensuring passage of much-needed legislation to protect the natural world we all depend on.
But wait, that's not all!
Here's a full list of Huffman's California legislation. Also check out who else thinks Jared Huffman will best represent the 2nd District. Both lists are long. Both, impressive.
While many of the candidates share our values, Huffman is the only one with proven worth – over 60 pieces of legislation passed through California's legislature. Some people are inexplicably bothered by the fact Huffman has experience and support, decrying him as the "establishment" candidate and urging voters to choose "anyone but." A weird perspective, to eschew accomplishment in favor of a crapshoot. I wonder how these folks go about choosing teachers, doctors, mechanics?
Fortunately most people want what's good for our community, for our country as a whole, to make an informed investment in our future. Most people support equality, care about the environment and prefer that people have some reason to believe hard work will pay off. Together, we have a chance to elect a representative already possessing the necessary skills for success. Vote Jared Huffman for Congress on June 5.
---
SHARE →
---