---
Massive Arsenal Found in Follow-Up to Yesterday's 'R' Street Bust in Eureka
---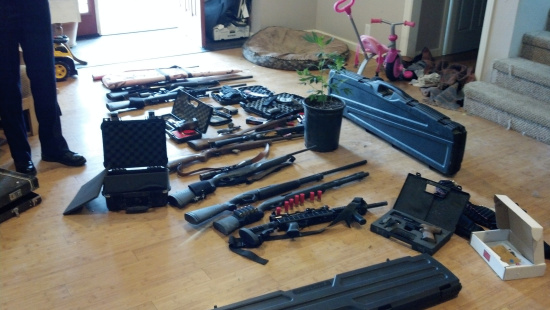 PREVIOUSLY: EPD Leads Joint Eureka-Dinsmore Bust: Weed, Money, Guns, Etc.
From the Eureka Police Department:
On 11/13/12, the Eureka Police Department's Problem Oriented Policing Unit (POP) served a search warrant at a suspected marijuana sales house on the 1600 block of 'R' Street, Eureka. The warrant was part of an investigation into a large scale commercial marijuana growing operation involving multiple suspects and properties.

During the service of the search warrant, resident Kevin James Hulcy (age 30 of Eureka) was arrested and transported to the Humboldt County Correctional Facility where he was booked for possession of marijuana for sale and maintaining a space for unlawfully manufacturing, storing, or distributing a controlled substance. POP investigators located and seized approximately 24 pounds of processed marijuana bud packaged for sale, 5 firearms, $38,706.00 cash (suspected marijuana sales proceeds), and other evidence indicative of illegal, commercial marijuana cultivation.

During the course of the investigation, EPD investigators also obtained evidence identifying the location of a second (rural) property in the Dinsmore area associated with the suspects and their illegal marijuana cultivation and sales operation. This information was relayed to the Humboldt County Sheriff's Office's Community Response Unit. That afternoon, Deputies, assisted by Agents with the Humboldt County Drug Task Force and a POP investigator, executed a search warrant at the property. Approximately 86 more pounds of processed marijuana was located and seized on the property, some of which the suspects had apparently hastily attempted to hide.

On 11/15/12, at about 9:30 AM, POP investigators served a search warrant on a second residence associated with the suspects' commercial marijuana growing operation. This residence was also located on the 1600 block of 'R' Street near Hulcy's house (the second property did not belong to Hulcy).

During a search of the two-story residence, investigators found evidence of a large recently harvested and trimmed indoor marijuana growing operation. A substantial section of the residence (3 rooms in the back) had been converted into a marijuana cultivation and processing space. The grow appeared to have been for-profit in nature and was additionally out-of-compliance with Eureka's Medical Cannabis Ordinance.

Investigators seized 15 firearms from the residence including rifles, shotguns, and pistols. Investigators also located and seized approximately a ½ pound of processed marijuana bud believed to be packaged for sale in multiple bags.

Officers also observed a potential electrical fire hazard associated with the indoor marijuana growing operation due to unpermitted wiring etc. PG&E was contacted to disconnect the electrical service to the residence.

Charges including unlawful marijuana cultivation, possession of marijuana for sale, and maintaining a place for the purpose of unlawfully manufacturing, storing, or distributing a controlled substance are anticipated to be requested against the residents, who were not home at the time the warrant was served.

At approximately 10:00 AM, POP investigators also conducted a related probation search at a residence on the 900 block of 'N' Street Eureka. Travis Matthew Collins, age 28 of Eureka, was contacted and detained at the residence. Collins was on felony formal probation for DUI.

During a search of Collins' home pursuant to his probation status, investigators located a Winchester 12 gauge semi-automatic shotgun and Remington 30-06 caliber semi-automatic rifle concealed under the mattress in his bedroom. Investigators also found approximately 3 ounces of processed marijuana in his room.

Collins was arrested and transported to the Humboldt County Correctional Facility where he was booked for probation violation and unlawful possession of a firearm by a convicted felon.

This is an on-going investigation and additional arrests may follow.

Anyone with information concerning suspected drug activity occurring in the City of Eureka is encouraged to call the Problem Oriented Policing Unit at (707) 441-4373 or the Humboldt County Drug Task Force at (707) 444-8095. Anyone with information for the Sheriffs Office regarding criminal activity, including drug activity, is encouraged to call the Sheriffs Office at 707-445-7251 or the Sheriffs Office Crime Tip line 707-268-2539.
---
SHARE →
---
---