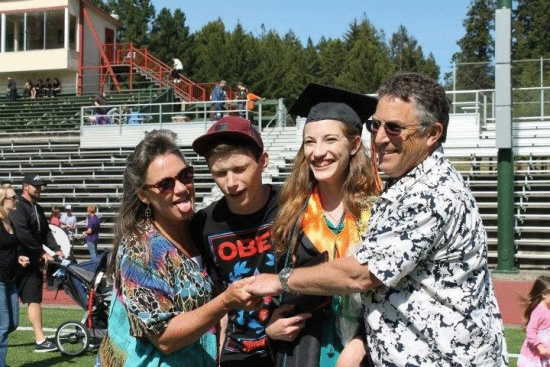 The family in happier times (originally posted on the memorial page. Reposted with permission from one of the page's creators.)
UPDATE: 11/26: The names of the family have been released. Geddie is Gregory Kuljian and is still missing. His parents are Mary Scott and Howard Kuljian.

The tragic story of a local family swept by waves into the waters a little over 30 miles north of Eureka this Thanksgiving weekend left a community heartsick. The family dog was swept out into the water by high waves and the 16 year old son followed in an attempt to save the pet. The father went after the boy, and according to an interview in the Times Standard with a State Park and Recreation superintendent, "…the teenager was able to get out, but when he didn't see his father, he and his mother went into the water looking for him…Rescuers retrieved the mother's body and the father's body washed up." The son is still missing.
Friends of the teenage boy have started a Facebook page, Wear Green for Geddie, in which they ask their schoolmates to "wear green to school in remembrance of Geddie and his parents. [It] was his favorite color… ." The movement has spread to adults in the community and around the world. Photos and remembrances are being added quickly to the page including the photo above. The story is echoing throughout social media with #weargreenforGeddie tweets on Twitter, too.
Ian Johnson, one of the Facebook page creators, says
Geddie was one of the best people on this earth. His whole family was so nice and I haven't met or heard of a single person who didn't like him. Geddie himself was just the funniest, nicest, most amiable person that I could ever hope to have met. He could make anybody laugh with one little comment, and he could come up with them quicker than anything, almost as if each one was preloaded. His parents were also so nice (probably where he got his amiability from) and they were so understanding and just some of the best people I've met. His sister Olivia is extremely nice as well, and she is a great artist. And she's clearly so strong after all of this, and I have so much respect for her for that.

… Ruby Dickinson started the event after Raven and I posted statuses about it. We invited our friends, who in turn invited theirs, and it just snowballed. We really just wanted to have people wear his favorite color in memorial of him, in a way. Now we have people across the Country, and even some in other countries doing it.

And the more people who we have in memory of him, the better. If they didn't know him, then they should still wear it anyways, because if they had ever met him, they would have loved him as much as the rest of us.
Emmalaya Owen, another friend of the missing boy hopes everyone will join with them. "I definitely think that it would be amazing if the whole community got involved with the wear green for Geddie." She explained,
Geddie was one of the funniest people I know, just thinking about him puts a smile on my face. He was one of my best friends and he's some one I trust with all my heart. He was there for you when you needed him and there is no one else on this earth like him. We met in history class last year and became really good friends and we became even closer this year. I will always remember him no matter how long, especially how he was such an upbeat happy person or how he tried to put up Be Happy propaganda posters he drew around school.
Ruby Dickinson, another of the page creators says, "Tomorrow is about recognizing and celebrating Geddie's life, his incredible personality, and the love and wonder he brought to everyone around him. I am so overwhelmed by the love that this event is being shown and by the strength of our community."
Many members of the community have vowed to wear green tomorrow in remembrance of the boy and his family. The rest of the community and anyone who wishes to join in is invited to wear some green. Raven Calypso Johnson, another of the Facebook page's creators says she hopes the page they created helps people celebrate his life. She says, "His freshman year he dyed his hair electric green and he was known as 'the boy with green hair' and he would want the people around him to celebrate his life in color instead of black and white.
The teens are hopeful to get a page in their yearbook dedicated to their friend.