UPDATE., 11:19 p.m.: OK, friends, I'm calling it a night. Final thoughts: If the trend holds, Atkins is looking pretty good for reelection. (Still no third report.) Same-sex marriage had great nights in Maryland, Maine and maybe Minnesota. Marijuana had great nights in Washington, Colorado and Massachusetts (but not Oregon). Democrats had a great night pretty much everywhere. See you tomorrow.
UPDATE, 11:12 p.m.: (Kym) Proposition 30 just pulled ahead in state returns.
UPDATE, 10:20 p.m.: Humboldt County second report in. Atkins pulls very slightly ahead. 66 votes separate the Eureka City Council candidates.
UPDATE, 9:55 p.m.: Mitt Romney concedes. Watch his speech here. Still no second report from Humboldt County.
UPDATE, 9:40 p.m.: (Kym) Big wins for marijuana legalization in Washington and Colorado (see below), but Oregon has rejected its legalization measure.
UPDATE, 9:37 p.m.: Eureka election photos from John Matthews.
Team Atkins at Democratic Central Committee HQ: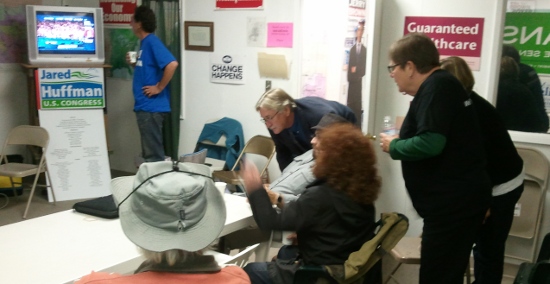 Team Bonino at Babetta's: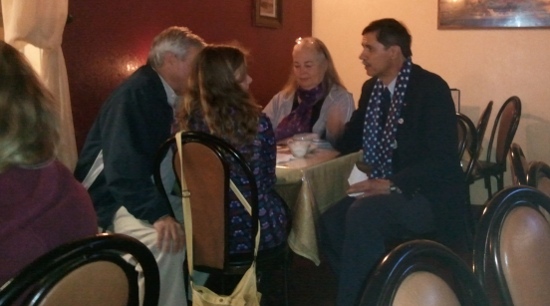 UPDATE, 8:55 p.m.: (Kym) Washington joins Colorado in legalizing weed. Earlier in the night, Massachusetts approved a medical marijuana initiative.
UPDATE, 8:54 p.m.: Colorado called for Obama.
UPDATE, 8:48 p.m.: Follow the state propositions here. At this writing: Brown tax measure losing; Munger tax measure losing much worse; GMO labeling losing; ban on union political contributions losing (barely); Three Strikes reform winning; death penalty ban losing.
UPDATE., 8:43 p.m.: (Kym) Colorado legalizes marijuana.
UPDATE, 8:22 p.m.: First local results posted. Bonino over Atkins, 50 to 48.6.
UPDATE, 8:20 p.m.: Humboldt County Registrar of Voters Carolyn Crnich expects first local results in at 8:30 p.m.
UPDATE, 8:15 p.m.: Multiple news outlets calling Ohio for Obama. If so, it is all-the-way over for the Mittster.
UPDATE, 7:45 p.m.: Remember: Polls close in California in 15 minutes. First results for Humboldt County and the state will be available very shortly after that.
UPDATE, 7:44 p.m.: Associated Press calls Nevada for Obama.
UPDATE, 7:42 p.m.: (Kym) Congratulations Maggie Hassan on becoming the ONLY Democratic woman governor in the country! (NHampshire)
UPDATE, 7:30 p.m.: (Kym) Massachusetts voters approve medical marijuana law.
UPDATE, 7:12 p.m.: Democrat Claire McCaskill beats douchebag Todd "Women's Bodies Have Ways of Dealing With That" Akin for Senate in Missouri.
UPDATE, 6:52 p.m.: Associated Press calls Pennsylvania, New Hampshire for Obama.
UPDATE, 6:52 p.m.: Richard Mourdouch, the Indiana douchebag with the "rape pregnancy=gift from God" YouTube clip, just lost his Senate race in Indiana.
UPDATE, 6:33 p.m.: Also, Fox News calls Wisconsin for Obama. Fox News seems strangely way more eager than other outlets to call these races for Democrats. It starts to make one suspicious.
UPDATE: 6:22 p.m.: Also, Fox News call Michigan for Obama.
UPDATE, 6:17 p.m.: Fox News calls Pennsylvania for Obama.
UPDATE 6:16 p.m: From Wisconsin:
AP reports that Tammy Baldwin will become America's first openly gay Senator. via @sivavaid

— Slate (@Slate) November 7, 2012
UPDATE, 6:11 p.m.: Scott Brown of Massachusetts just officially lost his Senate seat to Democrat Elizabeth Warren, says NBC. Oh, whoops. Not yet.
UPDATE, 6:00 p.m.: Mike Allen of Politico on panic within Team Romney: "We've just learned that the votes are coming in from Virginia … are pretty well tracking the Obama-McCain vote in 2008." They have a dude from an Obama SuperPAC on at the moment: "If we got Virginia — Forget it, let's party early!"
Also: early Ohio counting is bumming out Romneyland too, say the Politico folk.
UPDATE, 5:42 p.m.: Consensus on the Politico TV Web stream and on The New Republic's "Electionate" is that the Romney campaign has to be bummed at the returns from Virginia — just not what they need it to be. Karl Rove still seems chirpy, though.
UPDATE, 5:05 p.m.: ABC News is calling all the non-battleground states that have just closed for their expected winner, but the big news at the moment seems to be that President Obama is leading pretty big in Florida, and also in North Carolina — two states that seemed lightly and solidly Romney, respectively. There are a lot of micro-geographic factors to consider, of course, but the people who watch these things more closely than I seem a little bit shocked.
UPDATE, 4:36 p.m.:
CNN Exit poll: Obamaleading 51-48 in Ohio.Tie ballgame in NC, 49-49 #sfcvote

— joegarofoli (@joegarofoli) November 7, 2012
UPDATE, 4:11 p.m.: Indiana called for Romney too.
UPDATE, 4:10 p.m.: Real big shockers, but the Associated Press is calling Kentucky for Romney and Vermont for Obama. 8-3 Romney, with 527 electoral votes to go. I report this only to officially crack the champagne over the S.S. Election2012.
UPDATE, 4:04 p.m.: In case you haven't seen them: The New York Times has a couple of cool tools that help you understand what it means as the various state results start coming in. See here and here for different ways of visualizing the Electoral College.
###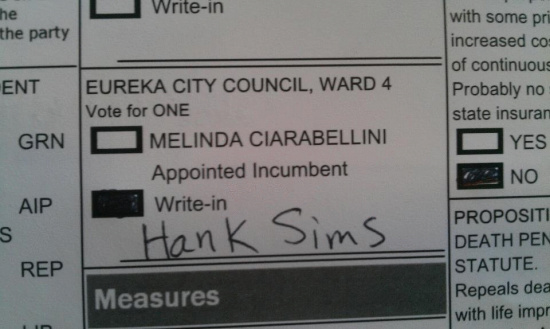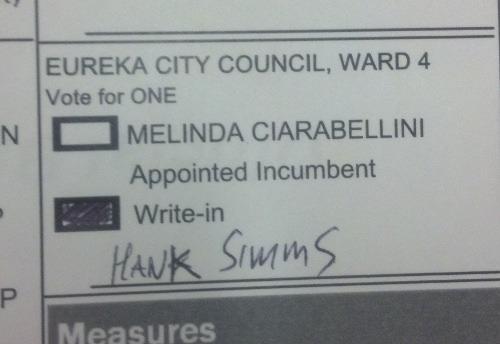 Hey hey hey! It's that time again!
We won't let the fact that this is the snooziest local election in Goddess knows how long stop the LoCO electoral liveblog tradition!
We still got the Bonino-Atkins showdown in Eureka!
We still got Arcata ballot measures! Will Dave Meserve's überhip and happening branding push his "Corps Aren't Peeps" over the top? And what about the anti-growhouse electricity usage tax measure that no one thought to call "Grows Aren't Peeps"?
Ferndale mayor! Ferndale mayor!
Our man John Matthews is going to be hitting all the hot dance/victory parties and sending in photos. We'll going to be dogging the results as they come in. And though it's not our beat, we'll check in here and again with whatever interesting tidbits from national and state races come across our desk. Updates pasted at the top of this thread as they come in.
It all starts … now!