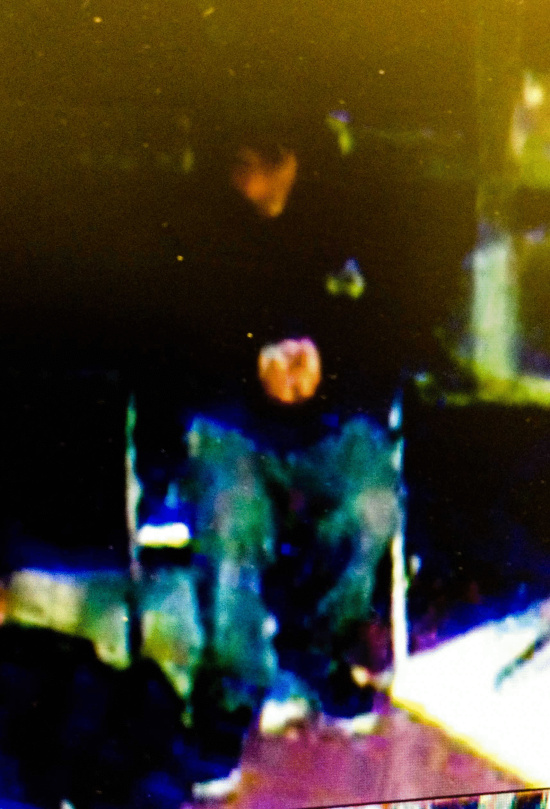 Poor quality still taken from surveillance tape of suspect
Last night at 10 P.M., a local woman with the help of two "Angels on Earth" recovered a stolen purse. Naveena Bird was putting a bag of groceries into her car in the Wildberries parking lot. Her young daughter was with her. Bird placed her purse between her knees and was struggling to pack the car. She says, "A young man walked up behind me and grab [the purse] out of my knees. I started to chase him in Reef Flip Flops, which after a few fast steps flew off, so I went barefoot screaming, 'Somebody HELP. He took my bag. I had $500, a deposit for Yoga and all my personal stuff so I was not going to stop."*
Bird was torn and very frightened, "I knew I had left my child behind so I was beside myself but I knew I couldn't give up. I kept screaming louder. Two young boys came out of the shadows at the Pythian Castle. [They] started to chase him and cut him off right in front of Funk Shui." With the help of the two young boys, Dizzy and Jeff, that she calls "Angels on Earth" who "saved the day," Bird was able to recover her purse though the thief got away. "The kid ran off from us, I had to get back to Anaiyah as fast as I could, she was frightened but okay." As soon as she recovered her purse, Bird ran back to her daughter. "She had luckily got my shoes and proceeded to lock herself in my car and waited."
However, Bird is worried. "The guy, as of now, is still at large, we have a picture on surveillance [and] a good description. The cops are on it. We do not need this happening again." She asks everyone to be on alert.
If you have any information or recognize the alleged thief from the admittedly difficult photo, you can contact Arcata law enforcement at (707) 822-2428.
———————————————————————————————
*Some punctuation etc. has been altered for ease of reading.