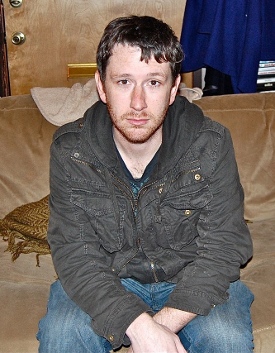 While today's bout of hacking is disappointing at minimum — we're still working on that, by the way — we are nevertheless thrilled to welcome Humboldt native Andrew Goff to the LoCO team.
Give it up for Goff, everyone!
Perhaps you know Andrew through his "Seven-O-Heaven" fumetto, which has run in the North Coast Journal for some time. Perhaps you've witnessed him in his role as Humboldt County's Hypemaster General, hosting this event or that and doing his Flavor Flav moves with the crowd. Perhaps you've seen him with his guitar, backing Jeff DeMark's bebop poetry or asking important societal questions in his own work.
What you probably don't know is that, lo these many years ago, your correspondent literally pulled Goff out of the St. Joe's emergency room and set him on his inevitable course to stardom. And now I got my Goff back!
What will Andrew be doing around this place? Lots of stuff. Seven-O-Heaven. Advanced courses in Kai the Homefree Hitchhiker scholarship. And like I said, he is essentially the emcee of the whole Humboldt County scene, so pretty soon you should look to the LoCO to tell you what you should be doing with your free time.
A new age is upon us. The Age of Goff!