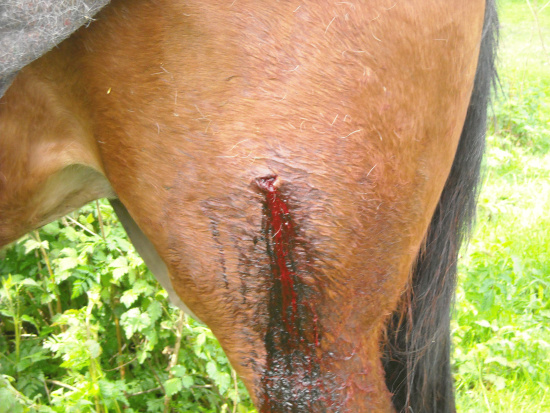 Humboldt CO. Sheriff's Press Release:
On 04-11-2013, approximately 9:00 a.m. the Humboldt County Sheriff's Office was notified of a horse that had been shot with an arrow. A livestock deputy responded to meet with the horse's owner and a veterinarian who was on scene treating the horse. The horses owner told the deputy her horse named "Cash" is a three year old male Appendix horse, which is a Thoroughbred/Quarter horse mix. The owner last checked on Cash on 04-10-2013, approximately 4:30 p.m. and he was fine. Cash was in a pasture at the end of McDermott Street, Alton near the Eel River. When the owner showed up this morning at approximately 7:45 a.m. to check on him she discovered he had been shot with an arrow and was bleeding heavily. The arrow had struck his left flank hip area. A veterinarian was immediately notified and responded from North Coast Veterinary Hospital. Cash was taken to the Veterinarian Hospital for further treatment; however the prognosis is not good at this time. The suspect responsible for this is unknown at this time. The case is being investigated as felony cruelty to an animal.

Anyone with information is asked to contact the Humboldt County Sheriff's Office at 707-445-7251 or the Sheriff's Tip Line 707-268-2539.