First, the international:
A Japanese skiff washes up in Crescent City, evidence of the devastating March, 2011 tsunami triggered by the preceding 9.0 magnitude earthquake. The 21-foot panga boat has been confirmed as belonging to Rikuzentakata High School. Rikuzentakata was "almost completely flattened" by the tsunami and residents have yet to recover. From Kimberly Wear's excellent T-S story:
Amya Miller, Rikuzentakata's global public information officer, said the boat's find was a cause for celebration.

"For those of us in Rikuzentakata, these are experiences we will never get used to, and for giving us something to be absolutely joyful about, to talk about, to laugh about, and to be absolutely giddy — we are grateful," she said.
Related: The Northcoast Environmental Center continues its Beach Clean Up and Tsunami Debris Monitoring Program at both Samoa Beach and Point St. George on Saturday, April 20. Also, Ocean Conservancy (me) participates in NOAA's baseline monitoring program the last Thursday of each month outside the Ma-l'el Dunes, adjacent to the Samoa Marine Protected Area.
Also, Ocean Conservancy's Tsunami Debris: What You Need To Know guide.
Next, this side of the Pacific:
Conservationists applauded the Pacific Fisheries Management Council's adoption of the "Fisheries Ecosystem Plan." Shifting from a single species, one-problem-at-a-time focus to an ecosystem approach is a very big deal for things like managing seafood harvest at the federal level. This plan is a conscious effort to transition fisheries decision-making to do just that.
Speaking of seafood harvest, keep up with what's going on fish-wise around the North Coast here.
Close to home:
You've undoubtedly admired our used condom shot by now. The T-S and KIEM News Channel 3 also covered Humboldt Surfrider's campaign kickoff to stop illegal dumping on the Samoa Peninsula.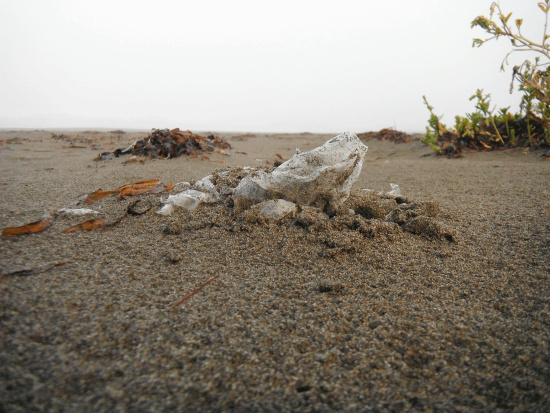 The dunes and beach? Beautiful. The plastic trash? Not so much. Opportunities to explore and clean up abound.
Speaking of the peninsula, Friends of the Dunes wants you to visit the Humboldt Coastal Nature Center this Sunday, April 14 — well, they want you to visit often, but this Sunday in particular, because they're hosting the Get Outside Gear Sale from 11 a.m. to 4 p.m. with bonus adventure games, live music by the Spindrifters, door prizes and food. Sliding scale admission, $1-3 — donate something for consignment and get in for free. Check out the many fine items they're offering and get inspired to further explore this gorgeous world we live in.
Finally, Tall Ships!