---
Want Your State of Jefferson? Redding Is Down
---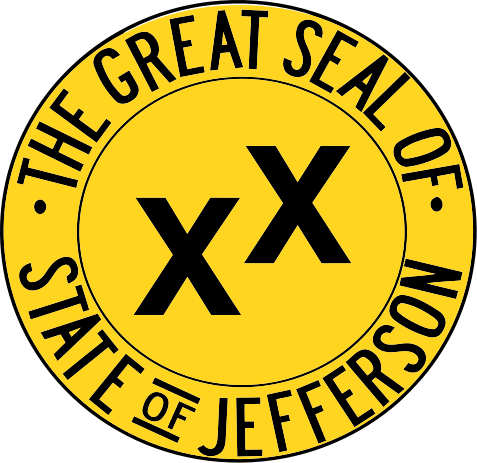 Local secessionists salivating to finally usher in the age of the much yakked about State of Jefferson — the long considered rural Northern California/Southern Oregon wunderstate — may want to look east for likeminded comrades willing to support the cause.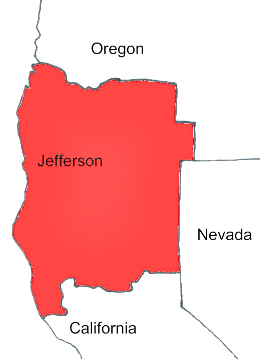 An editorial by Redding's Record Searchlight, published appropriately enough on April Fools' Day, noted that if the 19 county "modern version" of the State of Jefferson were realized it would be quite poor and lean overwhelmingly conservative. "Idaho. With beaches," the RS says.
Pfft. Whadda they know? When the paper asked its readers in an online poll if they would prefer a new state to call their own — a magical place no longer "controlled by distant urban interests out of touch with the north state's values and lifestyle" — well, so far its a landslide. Currently, 70 percent of free thinkers responding to the poll would favor a new deal.
So, suck it, Sacramento.
But what say HumCo? Would you rather be Jeffersonians than Californians? The LoCO is suggesting Humboldtians all bum rush the Record Searchlight poll. Why should Reddingites get to unscientifically (not really) decide our future? Let's see if those numbers change at all when the beaches of Idaho weigh in.
(NOTE: If you'd like to track Humboldt's affect on the poll, below is where the numbers were when we put this post up.)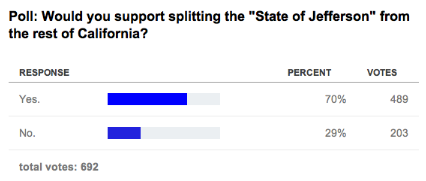 UPDATE, 11:24: Aha! Since our little post this morning, the Redding's Record Searchlight has been flooded with votes from its outraged coastal neighbors. See how they summed up the Humboldt influence on their polling numbers:
So far this morning, it's trended — just a little — toward the "No" side.
Boom. "No" has, in fact, been raised two percentage points. Small victories, peeps.
---
SHARE →
---