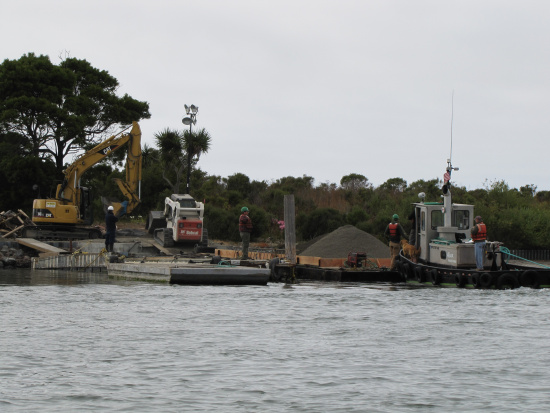 Cleaning up Indian Island (photo courtesy Wiyot Tribe)
Take 255 across the bridges and a near-constant line of cars and trucks sit tucked alongside the shoulder on Indian Island. This vehicular presence has become so commonplace over the last few months that it might be taken for granted, but in fact, that line of cars and trucks signifies an incredible amount of improvement for island, which has been much abused over the past century-and-a-half.
According to Stephen Kullman, Natural Resources Director for the Wiyot Tribe, the current work is the culmination of a multi-year cleanup project that has involved removing debris, toxic chemicals, hazardous waste and contaminated soils, an in-situ treatment for dioxins and PCPs and PCBs, erosion control and containment. This phase involves a semi-permeable geotextile cap covered by one foot of fill material, which will be planted with native grasses. The ultimate goal is to prepare the site to complete the Wiyot World Renewal Ceremony that was interrupted by the tragic massacre in 1860 and has not been held since.
Mad River Slough Paddle
Learn more about Wiyot culture and history during Friends of the Dunes' Mad River Slough Paddle on Saturday, Aug. 24 from 2 to 5 p.m. Humboldt Bay Aquatic Center will provide canoes and water safety instruction, and Friends of the Dunes will provide naturalist guides. This trip will start at the Mad River Slough bridge and paddle up the slough towards the Lanphere bridge. See shorebirds up close, explore Humboldt Bay National Wildlife Refuge's restored salt marshes and learn about the history of the slough, including its importance to the Wiyot people. The cost is $45 for members/ $55 for non-members. A couple slots are open to those that want to bring their own canoe at $20 for members/$25 for non-members. For more information or to sign up call (707) 444-1397.
MPA Monitoring Proposals Submitted
An opportunity to collect a wealth of data lies ahead as scientists and others prepare to study the North Coast marine protected areas that went into effect last year. Project proposals were submitted and, over the next few months, will undergo a two-step peer review process, led by California Sea Grant, to develop recommendations for project selection and funding. Reviewers will be subject-matter and North Coast region experts selected by Sea Grant, in consultation with staff of OPC, DFW and the Monitoring Enterprise. To stay up on developments, sign up for the Monitoring Enterprise's "The Pulse" newsletter.
"Yesterday's Ocean"
In related news, a visual and powerful look at fishing's past comes in the form of a new photographic look by undersea photographer Marc Shargel – regular Ocean Night attendees know Shargel from his fantastic Far North Coast Wonders of the Sea book. Yesterday's Ocean, as featured in an independent Ted Talk:
The book presents vivid historical imagery of fish and wildlife in California, documenting the steep decline in ocean resources in the 20th century and present day photographs along with a hopeful message about research coming out of national and international marine protected area networks.
101 Corridor Project Review
Humboldt Baykeeper commissioned an independent review of the 101 Corridor Improvement Project by Michael Moule, PE and TE, and Magnus Barber of Nelson\Nygaard Consulting Associates, Inc. Moule specializes in improving conditions for non-motorized users without degrading motor vehicle capacity and balancing the needs of all users within the public right of way. The review recommends alternatives that Caltrans should fully evaluate, including some that were proposed by local municipalities years ago, as well as impacts to safe bicycle-pedestrian access given the inevitable increase in speeds that would result from the preferred alternative. Full report here.
Surfrider Elections, California Conference Fundraising
On a personal note, yours truly is stepping down from chairing the Surfrider Foundation's Humboldt Chapter (after five fabulous years). Anyone interested in being the new chair or otherwise getting involved is encouraged to email humboldt@surfrider.org. In preparation for this transition, our chapter secretary and I are attending the California chapters conference in San Diego next month and will seek funds to help cover travel costs. Anyone wanting to help out, shoot me an email. (Thanks!)
Jennifer Savage works for Ocean Conservancy and Humboldt Baykeeper and currently serves as chairperson for Surfrider Foundation's Humboldt Chapter.