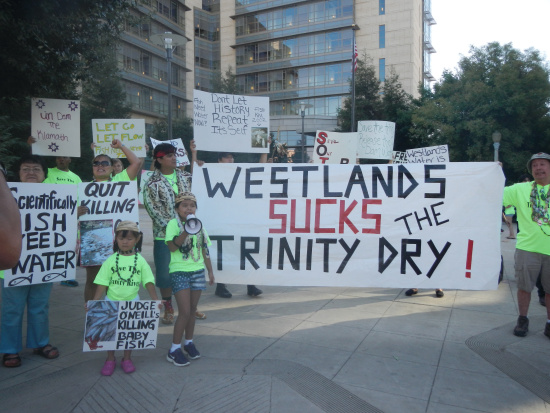 Photo courtesy Regina Chichizola/Hoopa Valley Tribe.
The Times-Standard is reporting that a federal judge will decide today whether or not to lift a temporary restraining order that has blocked additional release of Trinity River water downstream. The release — which the Bureau of Reclamation approved and scheduled earlier this month — is intended as a stop-gap measure to assist migrating salmon that should be making their way up the dry, sick Klamath River sometime soon.
The federal government, the Hoopa Valley Tribe, the Yurok Tribe and the Pacific Coast Federation of Fishing Association are all on board with the planned release, and they were in federal court and on the streets in Fresno yesterday to make their case for lifting the restraining order. Standing opposed to them were Central Valley irrigators, who make the case that water released to the ocean is water wasted.
Stay tuned for an update today.