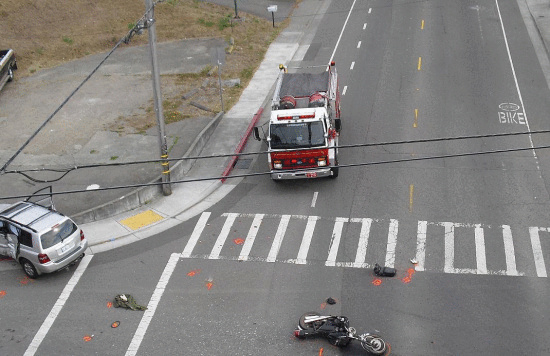 Photo from Fortuna Police Department's Facebook page.
Fortuna Police Dept. Press Release:
On August 24, 2013, the Fortuna Police Department received information that Justin Wier (Age 27 of Carlotta) died at Sonoma County Memorial Hospital where he had been transported for advanced medical care following a collision on Rohnerville Road in Fortuna. The Sonoma County Coroner's Office will be conducting additional investigation and the case will be forwarded to the Humboldt County District Attorney's Office for review.

Previous Release:

On August 9, 2013 at about 4:10 PM, officers with the Fortuna Police Department responded to the intersection of Rohnerville Road and School Street for a report of an injury traffic collision.

Upon arrival, officers determined that Justin Wier (Age 27 of Carlotta) had been traveling southbound on Rohnerville Road riding a 1979 Honda Motorcycle when Van Crismon (Age 70 of Fortuna) entered Rohnerville Road from School Street into the path of Wier. Crismon was driving a 2005 Toyota SUV.

Crismon was treated and released from Redwood Memorial Hospital. Wier was airlifted to Santa Rosa Memorial Hospital for advanced medical care and is currently listed in Critical Condition.

Preliminary information indicates that Crismon entered Rohnerville Road when unsafe to do so and that Wier was unlicensed and not properly wearing his helmet at the time of the collision.

This collision is still under investigation and it is currently unknown if drugs or alcohol played a factor.

Rohnerville Road was closed for nearly three hours and the department was assisted on scene by the Fortuna Fire Department, City Ambulance and the City of Fortuna Streets Department.
Previously: