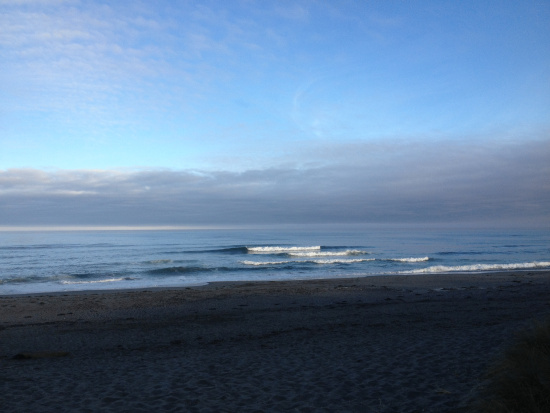 Which beach is your favorite?
Hopefully you've had a chance to hit the beaches during this seemingly endless warm spate. (Have you voted for your favorite yet?) Yes, the weather pattern disconcerts even as the joy of sleeveless evenings on the sand is discovered, but what can a body do except slather on more sunscreen and work toward the common good?
Volunteer: Adopt-a-Highway
To that end — making things better — Humboldt Baykeeper invites community members to participate in Adopt-A-Highway-Clean-Up day this Saturday, Aug. 31 by donning gloves and hard hats, and heading out to intercept the garbage migrating from the Samoa Bridge into the Bay.
Meet at the Baykeeper office, 217 E St. in Old Town Eureka, at 9 a.m. to carpool out to the Samoa Bridge landings on State Highway 255. We provide gloves, litter pickers, trash bags, and the ever-popular orange safety vests.
RSVP to Mariana at (951) 533-0711 or volunteer@humboldtbaykeeper.org.
Visit: Surfperch Program
Also on Saturday Aug. 31, a chance to learn about surfperch. The program starts at Friends of the Dunes' Humboldt Coastal Nature Center at 9 a.m. Join biologist Kat Crane for an educational program on this local sandy bottom fish. Learn about her research through the California Department of Fish and Wildlife and how the newly implemented Samoa Marine Conservation Area will influence fish populations.
Bring a fishing license and a pole if you'd like to stay after and fish for surfperch. Meet at the Humboldt Coastal Nature Center, 220 Stamps Lane in Manila. Call (707) 444-1397 to reserve a spot.
Volunteer & Visit: Ma-le'l North Dunes Restoration
Friends of the Dunes also sponsors a restoration day on, also on Saturday Aug. 31. The action happens from 9:30 a.m. to 12:30 p.m. in the Humboldt Bay National Wildlife Refuge's dunes. Gloves, tools and cookies are provided. Wear closed-toed shoes, a long sleeve shirt, and bring drinking water.
Meet at the Ma-le'l North parking lot accessed off of Young Lane in Manila. For more information, call (707) 444-1397.
Vote! What's your favorite beach?
Future events:
Monday, Sept.9 — Dune Week kicks off!
Tuesday, Sept. 10 through Thursday, Sept. 12 — The Coastal Commission meets in Eureka. On the agenda, CalTrans' 101 Corridor Project.
Saturday, Sept. 14 — Ocean Night features Last Ocean, a documentary highlight the devastation done in the Arctic by the hunger for Chilean sea bass.
And when that lovely sunshine sends you to the beach, remember, the ocean is still a cold (albeit slightly warmer) and dangerous place. The swell's picking up. Don't leave your trash and don't turn your back.
Jennifer Savage works for Ocean Conservancy and Humboldt Baykeeper and chairs Surfrider's Humboldt Chapter.