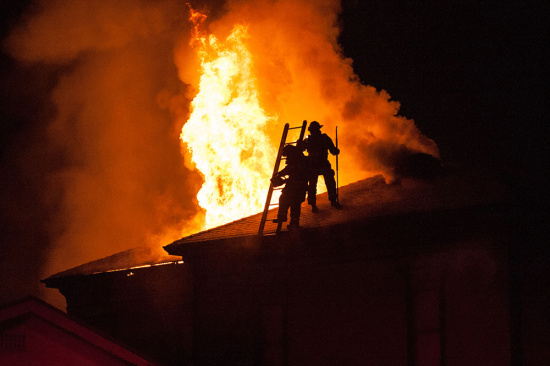 All photos: Mark McKenna
A major structure fire involving several homes broke out at around 3:30 a.m. Monday near the corner of Myrtle and West. Fire engines from around the region responded to help Humboldt Bay Fire battle the blaze and provide fire coverage. Myrtle Avenue was quickly closed in both directions and remains so as of 7 a.m.
Lost Coast Outpost contributor Mark McKenna was on scene and took dramatic images of the fire and the efforts to control it. He reports that at least two buildings are "gutted," and another damaged. Humboldt Bay Fire has issued a press release, below. More McKenna images follow it.
Humboldt Bay Fire and Arcata Fire crews currently have Myrtle Avenue closed at West Avenue and the 1400 Block of Myrtle Ave due to a major fire incident involving multiple structures. The fire has been controlled but crews remain on scene. Fire personnel will have the road closed for several hours this morning. Commuters are urged to use other routes. Do not drive through any barricades or over hoselines. Please look out for personnel and apparatus operating at the scene.

Humboldt Bay Fire will update traffic conditions, street closures and information related to the fire as it becomes available.