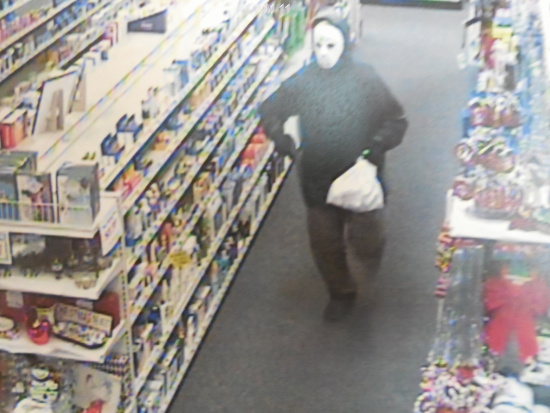 From the Humboldt County Sheriff's Office:
On 12-17-13 at approximately 3:50 p.m. the Sheriff's Office received a call of an armed robbery that had just occurred at the Palco Pharmacy in Scotia. Responding deputies were advised that a subject entered the pharmacy wearing a hooded rain jacket and a hockey mask. The suspect approached the pharmacy staff, brandished a long barreled, large caliber handgun and demanded Oxycontin and Oxycodone. The suspect then fled the pharmacy and ran across the street where he got into a dark colored pickup and left the area at a high rate of speed, Northbound on U.S. Highway 101. Deputies from the Humboldt County Sheriff's Office, along with Officers from the California Highway Patrol, Fortuna Police Department, Rio Dell Police Department and a CHP helicopter responded immediately and conducted a search of the area for the suspect vehicle but were unsuccessful in locating it.

The vehicle is described as an early 90's model Toyota extra cab, possibly dark green in color, with aftermarket black wheels and damage to the driver's side of the vehicle. It also has a white and black decal in the driver's side upper corner of the front windshield, and a red decal in the lower corner of the passenger side rear window.

The suspect is described as male, approximately 5'6" tall, 150 lbs., blue eyes, wearing greenish brown utility pants, a green hooded rain jacket and a white hockey mask.

Anyone with information regarding this case or related criminal activity is encouraged to call the Sheriffs Office at 707-445-7251 or the Sheriffs Office Crime Tip line at 707-268-2539.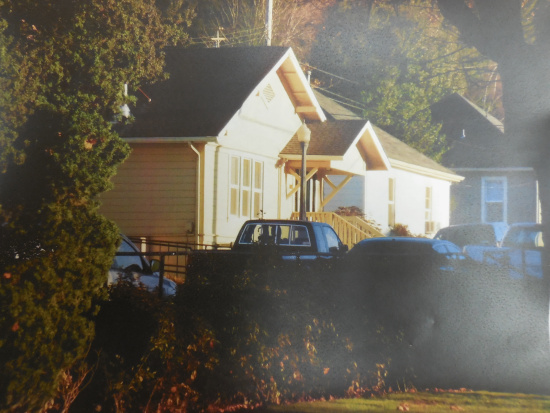 ###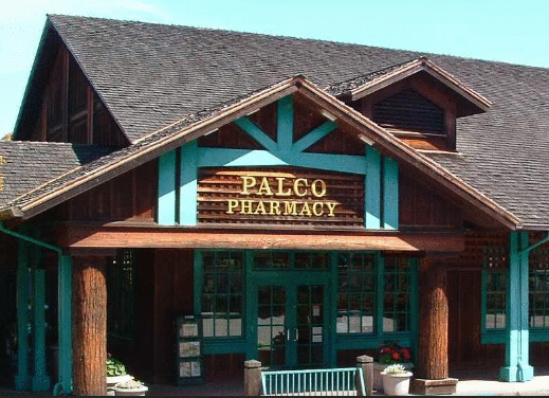 Palco Pharmacy was the scene of an incident with an armed man this afternoon (Photo snipped from Google Maps.)
"We would like everyone to know we are safe and they are actively hunting the [suspect]," explained an employee at Palco Pharmacy in Scotia about an armed robbery that occurred earlier this afternoon. Details are unclear at this time but LoCO has a request in to the Humboldt Co. Sheriff's Office for more information. (Pharmacy employees are not allowed to speak to media about the situation.) However, LoCO has learned that law enforcement has been searching for a suspect driving a 90's model green extended cab pickup. He is a while white male. 5'6", blue eyes, facial stubble, green rain jacket and tan or brown pants. He is considered armed and dangerous with a 357 magnum revolver.
The incident occurred sometime around 4 P.M.
According to Ronan Collver, principal of Scotia Elementary, he first heard about some sort of situation when his wife texted him. He then contacted John Broadstock a local fire official. At that time he was told that the suspect's vehicle was seen heading north out of town.
The sheriff contacted him at around 4:15. The sheriff told Collver that there was an incident and a suspect's vehicle was seen near the school 8 minutes previously. Collver said he was told that it was his decision to lock down the school if he wanted to. Based on the information he had that the suspect's vehicle had already left town, Collver gathered the handful of students and brought them in but did not go to lockdown. Colver explained, "I was given no indication that our school or our students were in danger.
The Humboldt CO. Sheriff has said that they will release more information tomorrow.