The Board of Supervisors got an update from county staff today about the proposed McKay Tract Community Forest.
Environmental, fiscal and homeless concerns were foremost on commenters' minds, though broad support for the McKay Tract Community Forest dominated the discussion.
Hank Seemann, Deputy Public Works Director presented the board with details regarding public safety, volunteer support, road and trail repair and financial potential. He noted that in the short term, the costs might exceed the revenue.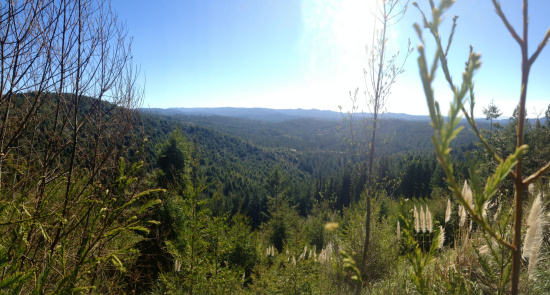 "We're looking at this as a working forest, and if it weren't for that revenue, we wouldn't even contemplate it," said Seemann.
He added that there would likely be at least 10 years of building capacity that could include roadbuilding and maintenance costs.
When Supervisor Fennell asked how ready the current trail network is, Seemann said "It's been one of my goals to make it, at least a portion, accessible in the short term but I think we'll need to have a phased rollout."
According to the county:
Planning and evaluation for the proposed community forest are currently in progress. The Board of Supervisors could make a decision whether or not to accept the property by January, 2014 and the forest could be accessible to the public by early spring, 2014. Trail development and other improvements would follow over time.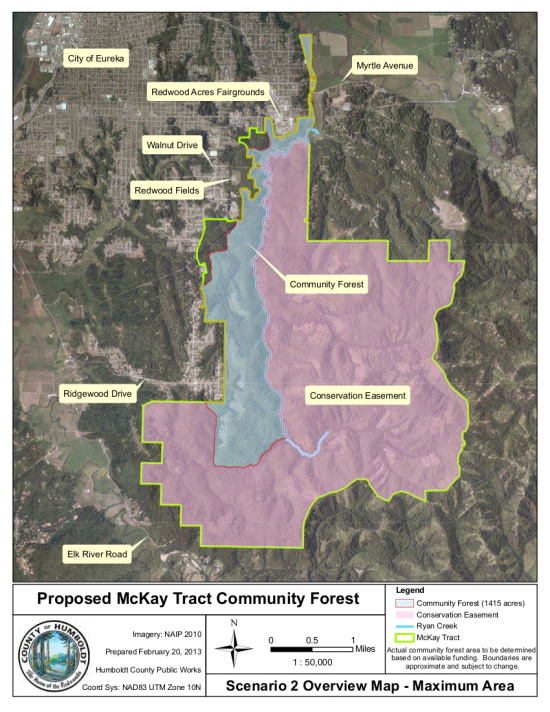 Charles Ciancio, Cutten resident, opened the public comments by telling the board he was a certified forester and to "be careful" and expressed skepticism of the cost projections.
Rees Hughes relayed his experience with trail volunteers in Arcata. "What we've seen over time is the growth of volunteer response… and there's very much of the same potential to leverage that with the McKay Tract."
Uri Driscoll of Arcata supported potential equestrian benefit. "I think it'd be a real huge asset to the horses at Redwood Acres to have direct access" to the nearby trail and offered his help to help meet that goal.
Dan Ehresman, executive director of the Northcoast Enviromental Center: "As a Eureka resident, this an exciting project to see and I'm personally willing to help out in any way to see this project move forward."
Doug Smith of Trinidad expressed concern about the current roads and trails. "All I've heard today is 'rebuilding roads, fixing the roads' instead of getting rid of roads, decomissioning, making certain areas wild."
Christy Prescott espoused accessible recreation as a recruitment tool for local employers:
"As we redefine our economic future, we have an opportunity to add to our urban-interface public lands that creates high-amenity communities, and as our workplaces become more disconnected to offices and more mobile, we have an opportunity here to attract investment to Humboldt county, and high wage jobs."
Forester Yana Valachovic from Arcata's Forest Management Committee, currently advising the McKay project said:
"This is a well-stocked stand. It's young in some parts but there are merchantable trees that are ready for harvest. There is a cash flow. We're not getting into a lot of the details here, but we're not looking at something that is going to break the bank from day one. There are a lot of parcels that we might dream of wanting to own as a community, as a county, as a group of concerned citizens… this is a really good one."
One resident who said he lived on Freese avenue (adjacent to the McKay tract near Redwood Acres) asked, "I'm just curious about what happens if this doesn't go through? What happens then? Are they going to get destroyed? There's enough destruction of the forest around my area now. I don't want to see any more of the forest going to subdivisions."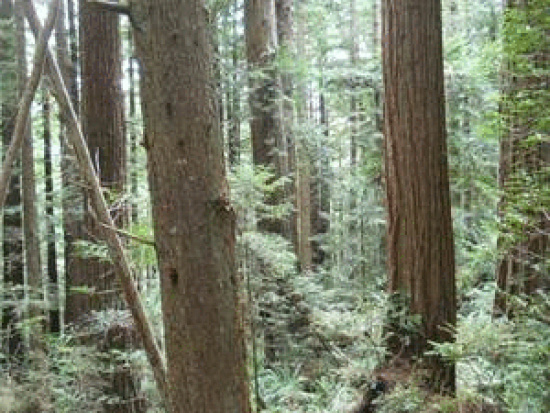 After the period for public comment closed, Miles Slattery from Eureka's Public Works department told the board, "We are definitely all in and wanting to work with the county as much as possible to make this happen."
Supervisor Rex Bohn said people had expressed concerns about homeless encampments, but "it's just not convenient to go camping there."
Bohn also noted that currently trespassers on the McKay Tract are unlikely to report homeless encampments. "It's kinda hard for them to call in and say 'I was out trespassing and I found somebody camping." Should the project go forward, "It's not going to be like that."
Bohn also said that the county would have to "get creative" with the short term funding, but that he's confident volunteers would step up to help.
"This is a great project. I've got so many people wanting to make this happen that we're gonna have to think outside the box, and we may have to take a little haircut for the next four or five years to get this into the box and make this work for the people, but it's not just the next four or five years, it's the next fifty…"
A third public meeting was proposed for when more detail regarding technical analysis, road reports, overall financial analysis, and the final sale agreement is available.
To get even more discourse on the McKay project, the county hosts a discussion over at its Open Humboldt site.
To get on an e-mail list for periodic updates, send an e-mail to: mckayforest@co.humboldt.ca.us.
Previously:
Supes to Get Earful About McKay Tract