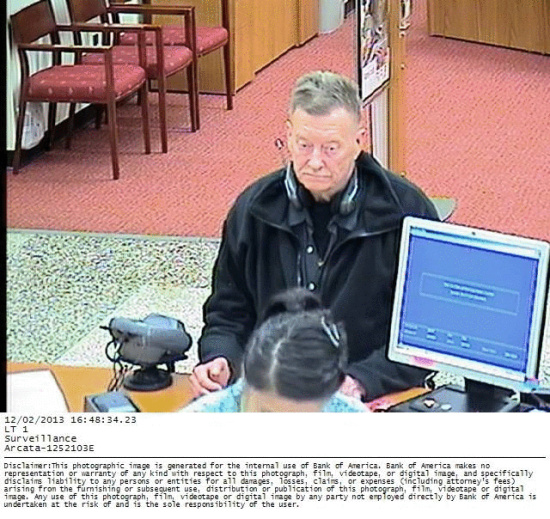 UPDATE 9:42 P.M.:
Press Release from the Arcata Police Department:
Officers responded to the 1700 Blk of G St and located the suspect, identified as 63 year old Stephen D. Long of Windham Maine. He was taken into custody without incident and booked into the Humboldt County Correction Facility.
Original Post:Let this be the last crime story today!
Arcata Police Department Press Release:
On 12-2-13 at 4:47 PM, the Arcata Police Department responded to Bank of America (697 8th St) on the report of a robbery.

Upon the officer's arrival, they learned that a white male adult in his mid to late 50's entered the bank and approached a teller. The man presented a note demanding money. The teller complied with the order and gave the suspect an undisclosed amount of cash. The suspect then exited the business through the west doors. The suspect was last seen wearing a dark colored jacket. He was wearing silver colored headphones around his neck and was clean shaven. The suspect had gray hair that was cut close on the sides and longer on top.

A photo of the suspect is available on the Arcata Police Department's Facebook Page:www.facebook.com/arcatapd

The Arcata Police Department is requesting anyone that may have witnessed the robbery, or have information on the identity of the suspect, to please called the Arcata Police Department at 822-2428