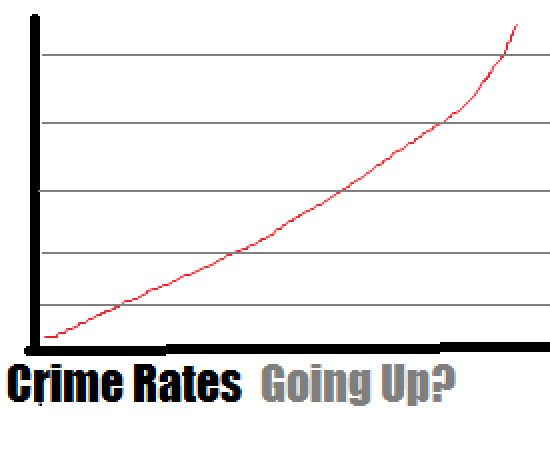 Today was a rough one for the believers in Humboldt as a safe place to raise kids. In response, LoCO poked into crime statistics available on Wikipedia to see just how bad the crime rates are. How do we compare to the rest of the state? Most of the statistics there are taken from the Office of the Attorney General, Department of Justice, State of California. Table 11: Crimes – 2009 which makes this information four years old. (Let's crowd source this, Humboldt. Who can come up with more recent information?)
According to the Humboldt County page, we have a population of 133,585. That makes us the 24th smallest county by population. There are 58 counties so we are ranked towards the lower middle.
Then, LoCO poked around in the California Locations by Crime Rate page under Counties. (Note: Clicking the arrows at the top of each column allows you to discover the order that the Counties are ranked for each respective section.)
Humboldt ranks 30th in violent crimes per 1000 persons. We're on the lower half there but just barely. In property crimes per 1000 though, we rank 18th. We're in the top third of the state.
Overall though, we aren't stunningly at risk for crime. Nor stunningly safe.
Just for fun, let's look a little closer at Humboldt. Some areas are obviously safer than others in our large county.
If we drill down a little into the stats, we can get an idea of how the most populated areas of Humboldt rank compared to each other. On the Humboldt County page under crimes, Wikipedia shows rankings of our main towns.
Violent Crimes per 1000
Eureka 5.79
Fortuna 3.82
Arcata 3.1
Rio Dell 2.35
Ferndale 2.17
Property Crimes per 1000 show the same relative ranking
Eureka 71.21
Fortuna 43.31
Arcata 36.68
Rio Dell 27.92
Ferndale 12.27
Just for fun though, LoCO thought it would be interesting to look at how Humboldt ranks in the annual Deaths Due to All Causes compiled by the California Department of Public Health. It is adjusted for age and looks at all causes of death per population. Well, maybe we shouldn't have looked.
The good news is we don't have the worst rate like we did in 2010.
The bad news…we have the second highest death rate in the state.
Crime, it might not be our biggest problem.