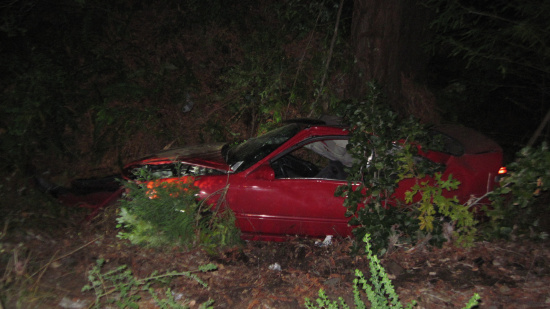 CHP Press Release:
On 12/26/2013, at approximately 1858 hours, Chang Thao, age 22, of Mckinleyville, CA, was driving a 2000 Honda Civic northbound on US-101, south of Redcrest, CA. The vehicle was traveling in the #1 lane, at approximately 60 mph. After passing a truck tractor towing a semi-trailer, the Honda moved into the #2 lane. As the Honda proceeded northbound it began to travel onto the shoulder of US-101. It then came in contact with the guardrail. Chang Thao steered the Honda to the left in an attempt to return the vehicle to the traffic lanes. Chang Thao lost control of the vehicle and it spun out of control northwesterly across all lanes of traffic. The Honda continued onto the southbound shoulder of US-101 where it stuck a raised asphalt curb. The impact caused the Honda to overturn. Ultimately, the Honda's passenger side roof and door impacted a large diameter Redwood tree west of the west Roadway edge of US-101.

Due to the collision, the vehicle's right front passenger, (name being withheld pending notification of the next of kin), age 58, unknown city of residence, suffered fatal injuries. The left rear passenger, Ampoung Lee, age 47, unknown city of residence, received moderate injuries and was transported to Redwood Memorial Hospital. Chang Thao, driver, was transported to Redwood Memorial Hospital with major injuries.

The Garberville CHP Office is handling the collision investigation, with assistance from the Humboldt County Coroner's Office.

DUI does not appear to be a factor in this collision.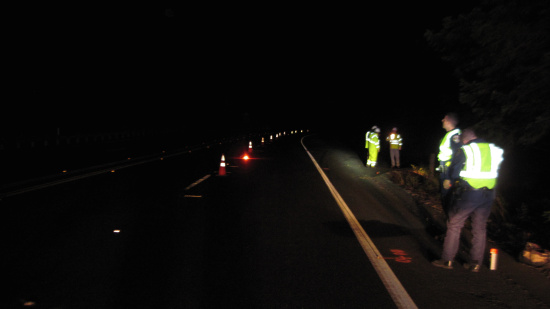 Previously: