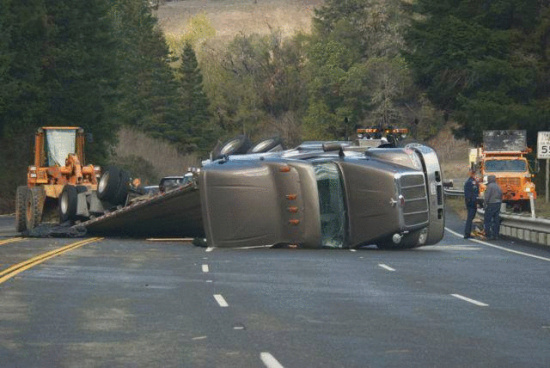 (Photo provided by Susan Fox, local artist.)
CHP Press Release:
On Saturday, December 7, 2013 at approximately 1215 hours, 27 year old Joel Ruben Garcia, of Mendota, CA was driving a Peterbilt semi-truck pulling a Great Dane trailer with a load of lumber, traveling southbound on US-101, approaching Benbow, CA. For reasons still under investigation, the semi-truck overturned onto its right side, sliding down the descending grade on US-101, before the tractor trailer came to rest. Garcia complained of pain but refused to be transported to the hospital. As a result of the collision, the lumber on the trailer spilled onto the northbound and southbound lanes of US-101. Cal trans responded to the collision scene to assist with clearing the lumber from the traffic lanes.

US-101 was closed for approximately 15 minutes in all directions until the truck and trailer could be moved. Cal-trans assisted with the road closure.

The Garberville CHP is investigating this collision.