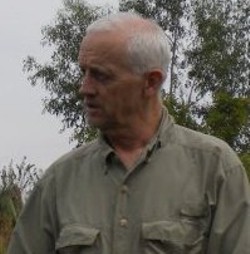 News comes this morning that Eureka Mayor Frank Jager will nominate longtime resident Chet Albin to fill outgoing Fifth Ward Councilmember Lance Madsen's seat on the Eureka City Council.
Albin must be confirmed by a majority of the remaining four members of the City Council, but that should present no problem — they, like he, tend toward the Tea Partyish end of the political spectrum, and so will likely welcome Albin, a newly minted "Democrat," with open arms.
All well and good.
But poor Mr. Albin! Not only did he change party affiliation, he actually had to move house — on paper, at least — in order to qualify for the Fifth Ward seat, as the North Coast Journal's Ryan Burns amusingly documented a few weeks ago. That places him in good company: Back in 2010, now-Third Ward Councilmember Mike Newman bagged up his carpets and shifted home from the Second Ward to run.
Poor fellows! None of it would be necessary were it not for Eureka's skull-crushingly dumb system of choosing its elected representatives. Here it is, in brief: The city is geographically divided into five wards. The City Council has five seats. Each seat is reserved for a representative who is registered to vote in each of the wards.
Here's the twist, though — the entire city votes for each representative. So if you live in the Third Ward, you're not only voting for your Third Ward representative. You're voting on who the First, Second, Fourth and Fifth wards get to have as their representatives too.
The logic of this unusual arrangement has always been difficult to pin down. Almost all the time, cities do this one of two ways: Either ward residents vote only for their own representative, or everyone votes for everyone in an at-large election, with no residency requirements for candidates. Put another way: Either councilmembers represent the whole city and the whole city votes for them, or councilmembers represent a geographic subunit of the city and only residents of that subunit vote for them.
Eureka does it different. Theoretically, the councilmembers represent the subunit — or why else have the residency requirement? — and yet everyone in the city gets a say as to who represents what. Again: If you think you have a handle on the rationale behind this, then please do share.
There have been attempts at reform in the past — even in the not-so-distant past — but they have all flamed out hard, mostly due to resistance from the city's codgerly conservative faction. But hey — isn't it now the codgerly conservative faction whose candidates have to go through the trouble of carpetbagging around town in order to land on an empty seat? Might they reconsider?
Press release from the City of Eureka follows:
Mayor Frank Jäger announced today that he is recommending Chet Albin for appointment to the Eureka City Council, 5th Ward. The appointment will be agendized on the December 17, 2013 Council meeting for approval by Council.

Three Eureka citizens of the 5th Ward submitted their names to Mayor Jäger for the vacancy created by Councilmember Lance Madsen of the 5th ward. A five-member sub-committee consisting of Mike Jones, Polly Endert, Neal Latt, Lorene Dunnaway and John Fullerton interviewed each of the applicants and made their recommendation to Mayor Jäger. The three qualified applicants were Chet Albin, Leslie Lolich and Barry Smith who all live within the 5th Ward. Mr. Albin was ranked as the number one candidate by 4 of the 5 sub-committee members.

Chet Albin has been a Eureka resident since 1985 and is a lifelong resident of Humboldt County. He has served on many local organizations including Fortuna Rotary, CASA, Humboldt Independent Insurance Agents Association, Six Rivers Basketball Referees Association, Eureka Hosing Advisory Board, Eureka Parking Place Commission and is currently a member of the Eureka Planning Commission.

Mayor Jäger would like to thank all of the applicants who came forward to apply for the vacancy and volunteer to serve the City of Eureka. Special thanks to the committee for giving up an evening of their time to assist in the process. Mayor Jäger stated, "It was a very tough decision as each of the applicants was very qualified and would do a great job for Eureka. At the end of the day, I relied on the recommendation of the 5 member committee and their insight into the candidates along with input from Councilmember Lance Madsen."