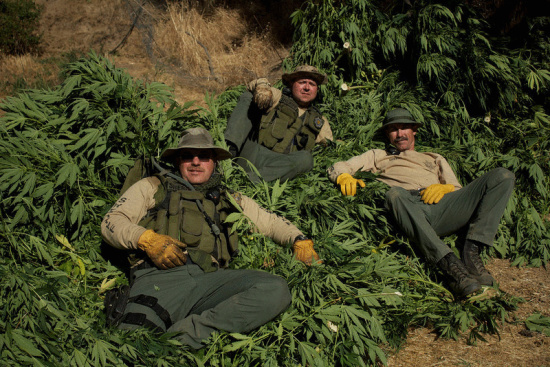 Photo from a review of the Discovery Channel Series, Pot Cop.
UPDATE 2/17: According to Marilyn Montgomery, who does publicity for Pot Cops, the premier has been pushed back to April 3.
Original post below:

On a cool, foggy morning last August, the Humboldt Co. Sheriff's Dept. wound their way up Tompkins Hill Road in Fortuna. They had a camera crew in tow. The crew was filming for a new documentary T.V. series on the Discovery Channel called, Pot Cops.
Below is a short trailer from the new series. It shows the arrest described in this Sheriff's Dept. press release. According to the release,
On 08-01-2012 at about 0745 hours the Humboldt County Drug Task Force assisted by the Humboldt County Sheriff's Office served a search warrant at a residence located in the 1700 block of Tompkins Hill Road, Fortuna. Officers located a commercial indoor marijuana growing operation in an unattached garage located behind the residence. Officers seized approximately 250 growing marijuana that ranged in size from 2 inches to 5 foot in height.

…Officers found evidence of a butane extraction hash lab in the garage. Officers seized 9 rifles and two handguns from the residence along with about 6 pounds of dried marijuana. Officers noticed a possible electrical fire hazard with the indoor marijuana growing operation…

…Zacharias was booked into the Humboldt County Correctional Facility for cultivation and possession of marijuana for sales, being armed in commission of a felony and for maintaining a hash lab. Zacharias' bail has been set at $500,000 dollars.
Zacharias' bail in this case was set at $500,000 which seems high compared to other arrests for similar amounts of marijuana. However, the manufacturing aspect does tend to increase bail says one local bondsperson.
According to a Discovery Channel press release (see below), the first three episodes of Pot Cops which was filmed with the Humboldt Co. Sheriff's Dept. feature episodes devoted to "tak[ing] down Mexican Cartel growers," "a strike against one of Humboldt's most notorious pot-growing families," the Sheriff's Dept. tracking down a "bizarrely charismatic local grower" and "parents who may be putting their own children at risk while hiding a huge grow."
The press release refers to Zacharias being "an armed, 300-pound local", evoking images of a drama filled with Deliverance style horror. However, Zacharias, like many country people appears to simply possess weapons. He opens the door and steps peacefully onto the porch and placidly follows law enforcement's directions. The biggest drama involving hardware is that his large size requires multiple handcuffs.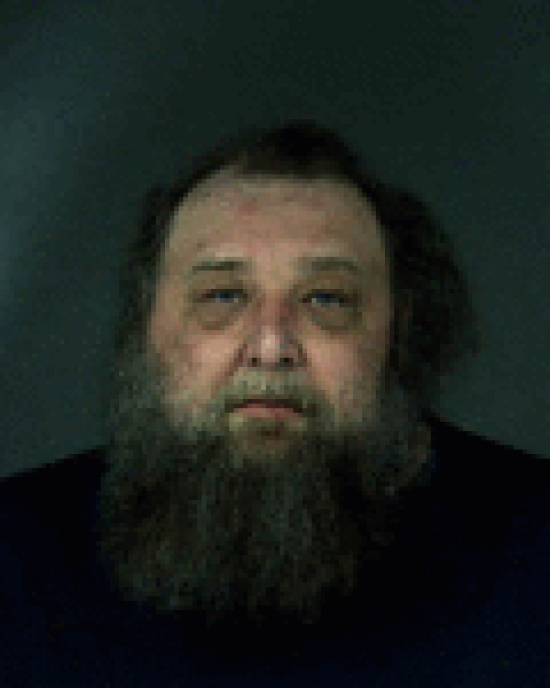 Brian Keith Zacharias age 40
The manufactured drama aside, the series offers a glimpse into law enforcement's perspective and what happens behind the scenes at an arrest. The trailer shows the situation room before the raid, the raid itself, and the grow. Presumably, the episode will delve more deeply into all aspects of the situation beyond what is in the trailer.
In any case, the look of pain and restraint on the understandably aggrieved officer's face when Zacharias says, "No offense, but it takes a certain type of guy to be a cop—-It takes a certain type of guy to be a child molester" conveys enough drama for an entire episode.
Discovery Channel Press Release:
DISCOVERY CHANNEL KICKS OFF "WEED WEDNESDAYS" WITH POT COPS

New Series POT COPS Premieres Wednesday, February 20th at 9PM ET/PT

(LOS ANGELES, CA) - In the vast forests of Northern California, most would never imagine encountering gunfire, booby traps and cartel activity. But here in Humboldt County, an area with some of the most conducive growing conditions in the United States, the country side is overrun with armed Mexican drug cartels that are willing to use violence to protect their valuable marijuana crops. In order to avoid crossing the border with illegal substances, many cartels have set up marijuana grows where they can produce thousands of plants potentially worth thousands of dollars each - and it's not just cartels setting up shop. Many "average joe" growers operate from this area, and will be brought down alongside the cartels if their activities wind up on the Drug Enforcement Unit's radar.

Humboldt's POT COPS are fiercely attacking the problem by raiding the suspected locations and taking down those who cause harm to their community. This determined Drug Enforcement Unit works day and night to keep the upper hand in the drug war against the dangerous and unpredictable growers. This three-part series follow Humboldt's POT COPS as they locate, raid, arrest and cut down illegal crops.

"Cartel Threat" airs Wednesday, February 20 at 9PM ET/PT

In Humboldt County, California, a strike team of Pot Cops risks all to take down Mexican Cartel growers who are running huge, clandestine weed farms in the Redwoods and shooting at local children on the Hoopa Indian Reservation. But before they do, the cops must first locate a grow that contains several hundred plants and deal with the suspected grower: an armed, 300-pound local who claims innocence.

"Buried in Weed" airs Wednesday, February 27 at 9PM ET/PT

A strike team of Pot Cops enters what will be the busiest week of the harvest season. The week kicks off with a bizarre, slow-speed chase of a stoned grower and culminates in a strike against one of Humboldt's most notorious pot-growing families.

"End of Harvest" airs Wednesday, March 6 at 9PM ET/PT

The Humboldt Drug Enforcement Unit enters crunch time of harvest season, where the team finds themselves on the trail of a bizarrely charismatic local grower, Meanwhile, the team investigates parents who may be putting their own children at risk while hiding a huge grow somewhere in the surrounding hills.

Discovery Channel's "Weed Wednesdays" begins on February 20th with POT COPS at 9PM ET/PT followed by WEED COUNTRY at 10PM ET/PT.

Funniest line: No offense, it takes a certain type of guy to be a cop, it takes a certain type of guy to be a child molester Close up on the officer's face.