Yesterday, on the theory that it was time to freshen things up a bit, the Lost Coast Outpost launched a brand a-spanking new homepage. We wanted to address some things that frustrated us with the site, highlight some features that sometimes got buried, and add some new and sparkly things.
Let's take a tour, shall we?
1). The top stories.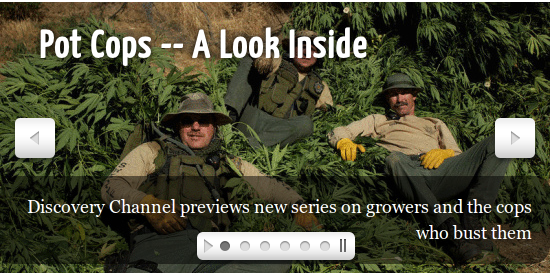 You know, sometimes some of the big stories we've done have gotten buried by a flood of new and smaller things. The top story isn't always the new story.
So we put a new story-slider dealie-o at the top of the new homepage. The stories here are ones we adjudge to be ones you do not want to miss, or that we don't want to bury down on page 3 quite yet.
You can hover over that thingie to pause the slider or to flip through stories quickly. Click on a slider panel to open the story.
2). The new stories.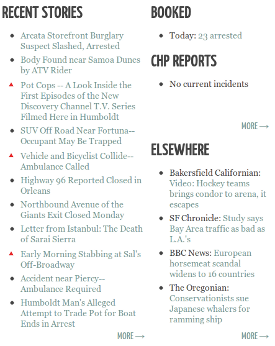 At the same time, we wanted to provide direct links to more of our recent stories right off the homepage. So you get those right underneath the slider. See a little red triangle next to a headline? That means that new comments have been posted on that story recently.
In the right-hand column, there, you get links to "Booked" and our "Elsewhere" stories, plus the most recent CHP incident report, if any.
3). Weather.
New feature: You get direct links to current weather conditions and forecasts for towns around the region in the top left corner of the site. Weather warnings, alerts and watches will come up on automatically on those pages.
Kinda nifty: The weather icon – cloudy, rainy, sunny – changes in response to real-time conditions in Eureka.
4). Featured photo.
This is something Kym's been requesting for a long time, and it's totally awesome – a "photo of the moment" feature that the community can submit their stuff to. (Email: mskymkemp@gmail.com).
Click on the image to go to the "featured photo" corner of the site. From there you can comment on the photo, share it or click it to get a fullscreen view.
Personally, I love Paul Spalding's current night shot in King Salmon and I can't wait to see what else county photogs send our way.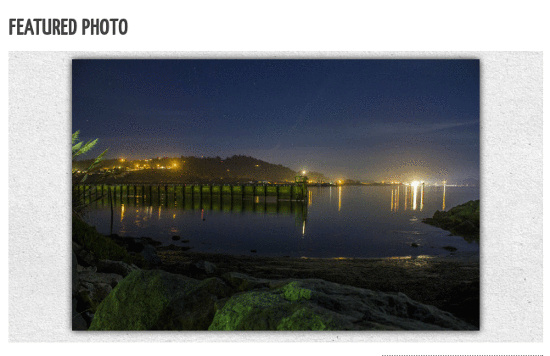 5). Podcasts.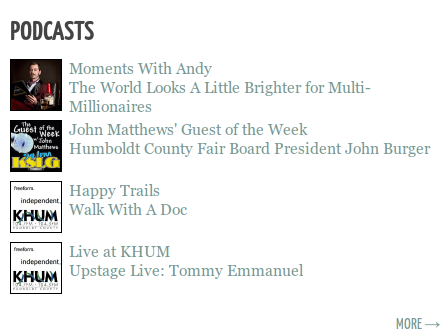 Quick access to all recent podcast episodes from Lost Coast Communications – radio stations KHUM, KSLG and KWPT. Here's where you get your John Matthews interviews, your news and views from the trail and oceanic and Ferndalian fronts, your relationship advice, Andy Powell's musings on life's miracles.
6). Goings-on.
For now, this is a shameless gank of KHUM's "Goodtime Guide" – music and theater happenings around the county. Someday: Maybe more.
7). Comment.
Direct quotes and links to the best of the best of the LoCO commentariat. Looking for all recent comments? Click "comments" up in the top navigation bar.
8). Paws Cause.
Down there on the lower-left you'll find a dedicated space for the widget that carries all recent reports from our pets-lost-and-found site, the Paws Cause, which is a joint project of the LoCO and all of our sister radio stations. If you lose or find a pet, you want to get over to the Paws Cause right away. We mobilize all our resources to reunite critters with their people.
###
Now, this thing is never done. Have a suggestion, critique or bug report? Leave it in the comments, and if it's good and doable and in line with the overall gestalt, here, I'll probably do it.
Still to come: Various tweaks and improvements, a revamped mobile site.