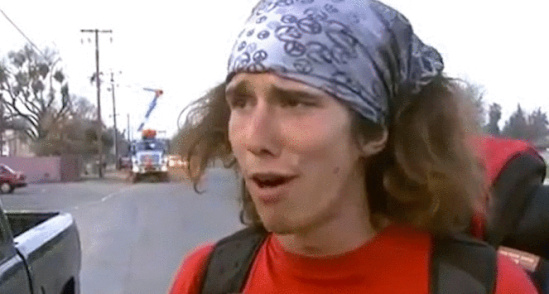 A few minutes ago, KHUM's Mike Dronkers received a surprise call and song request from … none other than celebrity Humboldter Kai the Hitchhiker!
Kai just got back into town, and he was ready to drop more wisdom on the world. But first he gave a little shout-out to your Lost Coast Outpost for its recent big scoop — a picture of him of him peeing on a Jimmy Kimmel Show banner. Much love, Kai!
Words of knowledge:
ON HOUSEFREENESS
DRONKERS: "Where do you sleep at night, dude?"

KAI: "Well, tonight's Valentine's Day, so I'm not exactly sure."
ON VIOLENCE AND PEACE
KAI: Dude, you gotta be able to be one person around the people you're protecting children from, and another person in front of the children. You know what I'm saying?

DRONKERS: I have to ask you: How do you justify punching millionaires in the face if peace and love and everyone's worthwhile is also part of the Kai message?

KAI: Well … I was loving them enough to knock some sense into them.
Listen to the full but heavily redacted and abruptly ended conversation below! No one quicker on the bleep button than Mike D.!
His request? Toots & the Maytals, "Pressure Drop." Roots!
PREVIOUSLY: