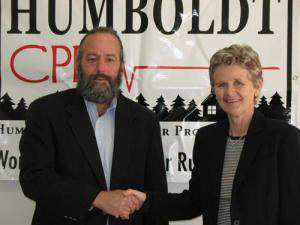 Good news for the Humboldt Coalition for Property Rights in today's Times-Standard: The county will disclose how much it is spending to defend itself against lawsuits brought by the Humboldt Coalition for Property Rights. The decision means that HumCPR can go to the public and say, "Hey, see how many of your tax dollars the county is spending to defend itself (from all the lawsuits brought by us)? Where is the outrage?"
But that could be only the beginning of what be shaping up to be a very big week for the property rightists. On Tuesday afternoon, the Humboldt County Board of Supervisors will appointing someone to an at-large seat on the Humboldt County Planning Commission, and damned if it doesn't seem like HumCPR honcho Lee Ulansey looks poised to take a seat beside his colleague Bob Morris on the body meant to regulate land use in the county's unincorporated areas.
Seven people have stepped forth to put forth their names into the hat. Among them are former Planning Commissioners Denver Nelson and Mel Kreb. Nelson, a doctor and fish enthusiast, was former First District Supervisor Jimmy Smith's appointee; newly elected Supervisor Rex Bohn bounced him from the commission last month in favor of Cutten developer Alan Bongio. Likewise, Kreb — a Clendenen appointee — was booted off in favor of Morris, a man who once filed an unsuccessful "takings" suit against the federal government for preventing him from cutting down old-growth redwood.
Both Nelson and Kreb apparently do not mind facing the long odds in seeking an at-large appointment from the most conservative Board of Supervisors in ages.
Filling out the roster are perennial nominee Sungnome Madrone, a smart and likeable guy with a name that doesn't help his case, lefties Pam Service and John Rogers, and Darrel Petersen, a man whose name I confess I do not know. And then there's Ulansey.
It's pretty safe to say that he has at least two solid votes, right? Supervisor Estelle Fennell (above) was the executive director of HumCPR for nigh on three years, in between her first and second run. Supervisor Virginia Bass is such an enthusiast that in a different life she attempted to appoint him to City of Eureka's Planning Commission even though he does not live in the City of Eureka.
That means that Ulansey only needs to scrape together one vote from Rex Bohn or Ryan Sundberg. Please.
Download Tuesday's agenda item here.