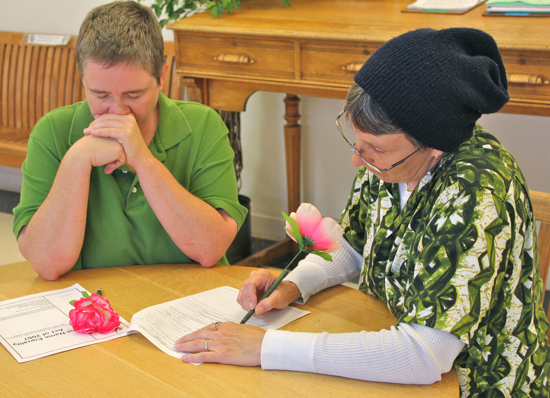 "My hand is shaking," said Eureka resident Jean Morgan as she filled out her Application For License and Certificate of Marriage. "I'm a little nervous."
Morgan's partner and soon-to-be-legal wife Tina Vest sat next to her at a round, spartan table under the bright fluorescent lights of the Humboldt County Clerk and Recorder's office, waiting to cross her own "t" and dot her own "i"s. Jean and Tina are the first same-sex couple to apply to be married in Humboldt County since last Wednesday when the Supreme Court affirmed that California's Proposition 8 is unconstitutional. This coming November will mark 10 years the couple has been together.
"I would have done my hair if I knew a photographer was going to be here," Vest said. After filling out their application, office workers printed out a typed copy for the couple to look over.
"'Eureka' is spelled wrong," Morgan gently pointed out gesturing to the box denoting their city of residence that listed "EUREAK." "We want to be sure this is right."
While a new, correct copy was printed up, the couple forked over $78 the marriage license fee plus an another $100 ceremony fee. At one point Morgan pulled out her iPhone to share photos of her cat to share with office staff.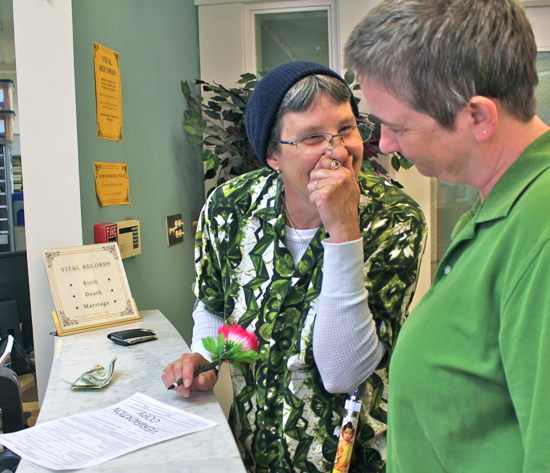 The Humboldt County Clerk and Recorder's office got the official word from the State of California that same-sex marriages were cool again at around 4:45 last Friday afternoon. They close at 5 p.m., so needless to say, no couples were ready to roll just quite yet. But bright and early Monday morning, there were Vest and Morgan sitting on a bench waiting for the office to open at 8:30 a.m.
With their official paperwork filed, Jean and Tina will wait the required 24 hours before returning to the courthouse for a ceremony with witnesses at 2 p.m. tomorrow. At that point Tuesday — which is also her birthday — Tina's last name will change from Vest to Morgan.
Then the couple will be (legally) married. Congrats, you two.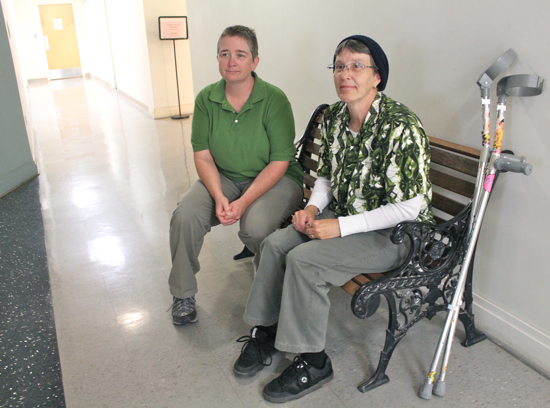 Tina Vest and Jean Morgan wait for the Humboldt County Clerk and Recorder's office's 8:30 a.m. open time.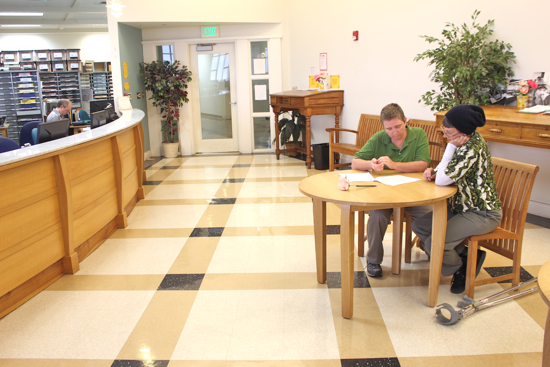 Paperwork!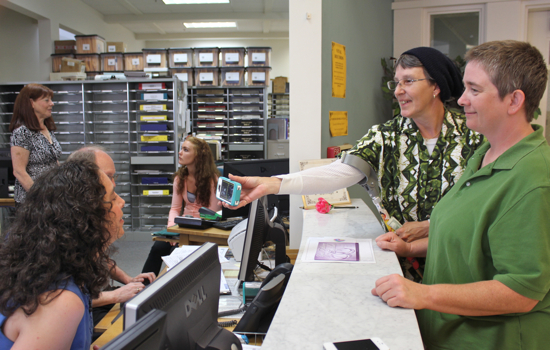 While they wait for their paperwork to be filed, Jean shares a picture of her cat with county staff.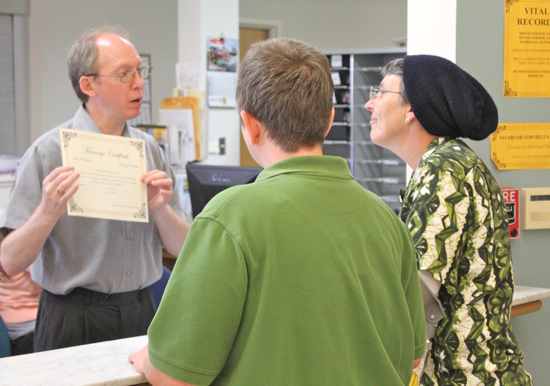 Tina and Jean are presented with an unofficial marriage certificate — "for your scrapbook."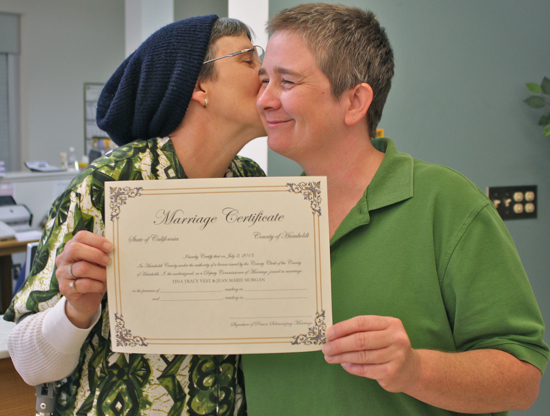 !!!