This video of Orleans' area was taken around 8 P.M. last night from the Red Cap Road which is across the river from the little town.
UPDATE 6:25 P.M.: Julie Ranieri, the Six Rivers National Forest spokesperson, says that evacuation orders are still in effect. "Emergency closure has not been lifted."
Original post below———————————————————-
Some residents near the Dance Fire have been cleared to go home says Angela McLaughlin who works in Orleans. Angela McLaughlin, who is employed by the Dept. of Natural Resources, says that tribal housing was in danger last night. In fact, she took the following photo from her grandmother's porch.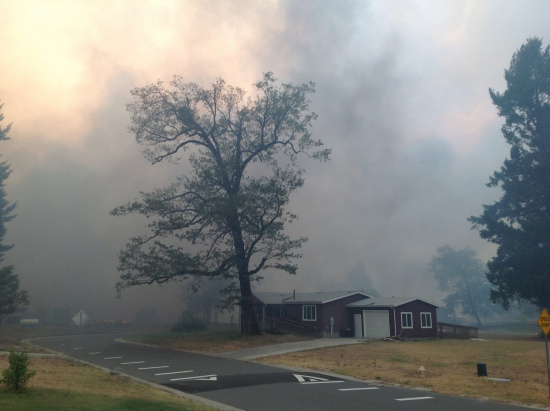 Flames from the Dance Fire can be seen in the lower left by the sign. McLaughlin, who took both the video and the photograph, says the house in danger was saved but that another elder's home three buildings away was burned. Now, though, she says, tribal housing residents can return home. The air though is thick with smoke and some elderly residents may want to go where the air is clearer, she says.
The latest information says that the fire is "currently progressing unchecked to the north of Orleans adjacent to the GO Road [Gasquet/Orleans Road.]" Below is a map of the perimeter.