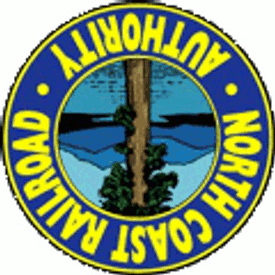 The North Coast Railroad Authority could be running out of steam.
Harbor Commissioner Richard Marks, who represents Humboldt County on the NCRA Board of Directors, told the Lost Coast Outpost that board chair Allan Hemphill brought up the possibility of the authority — a state agency — filing for Chapter Nine bankruptcy yesterday during a meeting of the authority's finance committee, on which Hemphill and Marks both serve.
No action was taken, and the shape of a potential NCRA belly-up were not explored in depth. "Bankruptcy was brought up but not defined," Marks told us.
Still, Marks said the dire state of the authority's finances meant that something had to happen soon — probably by next month. The authority is currently projecting a $211,767 deficit in the 2013-2014 fiscal year. Cash reserves are minimal to nonexistent. The fact that the potential of bankruptcy was brought up by Hemphill — the authority's longest-serving director and one of its most stalwart boosters — means that the its financial crisis must be serious.
At least in Humboldt County, the NCRA has suffered not only from its perenially problematic finances but the loss of railroad-booster mindshare. As of late, the boosters' big dreams have attached to the idea of an east-west route rather than the NCRA's north-south line — which once actually existed, though it hasn't reached Humboldt County in the last 15 years.