Without getting too deep into last semester's dustup between Jimmy Kimmel Live and Humboldt State University, we'll note that Friday's JKL featured a very slight bit featuring Gary Busey giving a graduation commencement speech to an imaginary college (watch below). Highlights of the speech? Finding your passion and goat sex. Nothing revolutionary.
Oh, but what name did Jimmy Kimmel Live assign their fake university and feature on its podium?:
"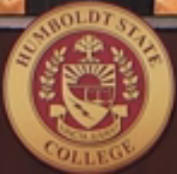 "
There. Now let us never speak of this again. The end.