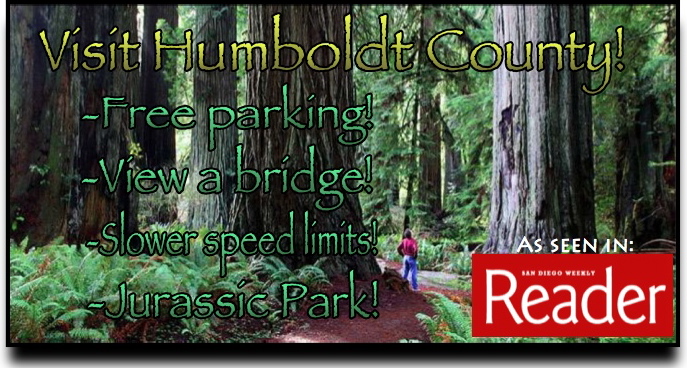 Being the backwoods yokels that we Humboldtians are, admittedly our ears perk up anytime we hear ourselves mentioned in large print publications, on TV or in Sublime songs. "They mentioned us! We're famous," we think before returning to milking our cows and/or tending to our meager pot gardens.
Well, it totally happened again! Our latest bump comes to us from the San Diego Reader. Some of the Humboldt's features the SDR chose to highlight in a recent writeup:
"Drive through the Drive-Thru Tree …"
Loleta Cheese Factory: "watch the cheese-making process through two enormous windows."
"View the bridge to Samoa over the bay …"
Fern Canyon: "where Jurassic Park was filmed."
"A consistently great highlight is free and ample parking, and unpopulated areas."
"… plenty of space …"
"… the pace of life is slower, and so is the speed limit …"
In addition, there are two contrasting photos of the marina. The first foggy photo is captioned "Sleepy waterfront in the Humboldt County town of Eureka, CA." The second photo featured carries the caption "Eureka's waterfront on a sunnier day" and was taken on a sunnier day.
OK, I guess that'll do, read the whole piece here. One final frivolous observance: note the banner ad on the SDR website advertising San Diego's Oyster Fest scheduled to occur the same day as our bivalve celebration. They got Mayer Hawthorne! Wow! And what does it cost to attend such a festival? $25/$100 for VIP tickets.
Ah, it's good in the sticks. See you on Saturday, HumCo!