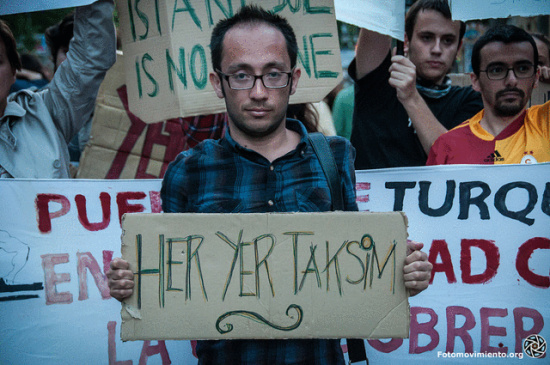 Photo: Fotomovimiento.
"Peace in Turkey, peace in the world." — M. Kemal Ataturk
I was having dinner on Saturday evening in Bostanci, a pleasant neighborhood near the fish markets on the city's Asian side. We'd just finished dinner and were having Turkish coffee, sitting on the balcony, when suddenly it all started. First there were just honking horns of passing cars, then there were accompanying hoots and cries and whistles. Then, it was as if all the balconies and windows of the surrounding apartment buildings suddenly came to life. Lights flashed off and on in windows, blinking like phantasmagoric eyes, and voices of the people shouted on, their voices rising and falling like confetti in the night air, as the car horns blared on. Others waved Turkish flags from the windows and balconies.
In all my experience as a journalist, I'd never seen anything quite like it: an impromptu neighborhood protest erupting from within people's homes, finding expression in a community of dissent. It was a work of art, you could say — a civic expression of mass urgency.
My host, Ahmet, normally a modest, unassuming man in his forties, and who works at a supermarket headquarters, suddenly joined in on the protest. He rose and began flashing the light on and off. His wife and daughter smiled in approval. The daughter, Eda, grabbed her iPhone and began filming.
In all my years of travelling, I had never seen anything quite like this.
"Imagine how it must be in Taksim right now," I said.
"No," Ahmet said. " I don't want to imagine."
"It is part of the protest against the goverment, of what is happening in Taksim," he added. This was unnecessary, for like much of the world, our eyes have been focused on the events taking place the past few days in Taksim Square. It's over on the European side, and is the heart of the city's entertainment district. Many embassies are there as well.
As readers back home probably know, thousands of people have descended on the square in recent days. They are protesting plans by Prime Minister Recep Tayyip Erdogan and his governing AK Party to get rid of Gezi Park and replace it with a shopping center. Police have responded by firing tear gas and water at the crowds, and have arrested nearly 1,000 people.
But it's not just about the park.
"It is only a symbol," Ahmet's daughter Eda, age 15, said. She showed me pictures emailed to her by friends. One showed a woman in London holding a sign voicing solidarity with the Taksim protesters.
"All of the world is with Taksim," she said proudly.
"Yes," her father concurs. "The park really is a symbol of everything that Tayyip's government has been doing. He thinks he can just do whatever he wants. This is not democracy."
The previous evening, sitting on the balcony at our flat, listening to the sounds of the car horns and following the latest developments on Turkish radio, I had talked with my flatmate Omer. He is a chemical and mining engineer in his early thirties.
"For many people, the park is full of memories," Omer said. "It is where they would take their darling for walks. Can you imagine if in America they wanted to get rid of Central Park in New York?"
"Right," I said. "Istanbul already has too many shopping centers. That park in Taksim is one of the few green spaces in that part of the city."
It's more than just the park, as Ahmet pointed out. In recent years, there has been growing anxiety among many that the prime minister and his AK Party, which has Islamic roots, is trying to dismantle the secular democratic republic founded by Mustafa Kemal Ataturk following the Turkish War of Independence in 1923. Recently the government approved a ban on alcholic drinks between 10 pm and 6 am, for example. Kissing in public by couples is discouraged, in the name of "morality." İn recent years there has been an increase in the number of religious schools that were predominant back in the Ottoman days. Erdogan also has been trying to change the Turkish constitution to allow him to extend his term.
Others say that Erdogan wants to bring back the Ottoman Empire, with himself standing astride Turkey as a collossus, a neo-sultan.
"He is like Gatsby," Omer said (we went and saw the film together last week). "He thinks he can repeat the past."
On Sunday morning I awoke. It had rained overnight and the sky was still grey, overcast. During the night scores had marched down in the street directly below my apartment in Kadikoy on the Asian side. One sensed that similar impromptu demonstrations had taken place all over the city. They had also reached Ankara and Izmir and other cities. How can one describe it? It is both exhilarating and terrifying. Exhilarating because you feel the power of the people, and want to be part of them. I myself leaned out the window last night, shouting "Ataturk!" in sympathetic encouragement.
But it was terrifying too. One thinks of the police clashes in Taksim Square. You also think of Syria, which is just down the road. You wonder where all of this is leading. The situation in Syria too began with simple street protests that were violently put down by the government. Now the country is in a full-scale civil war, and the outcome of that is still very much uncertain.
When you have lived in a country for three years, have made friends and come to love the country, you shudder to think of such prospects quivering on the horizon, even if the ultimate outcome may be good. You wonder about the costs. Hopefully, these protests will send the message that Erdogan perhaps needs to hear. As one journalist said in a CNN report. Erdogan may be the prime minister, with a mandate from the public, but there are many others here who also have a voice. I know because I heard quite a few of them last night.
###
UPDATE, 3 p.m.: James sends in video from this evening's protests on the Asian side of the city:
James Tressler was a reporter for The Times-Standard. His books, including Conversations in Prague, and The Trumpet Fisherman and Other İstanbul Sketches, can be found on Amazon.com and Lulu.com. He lives in Istanbul.