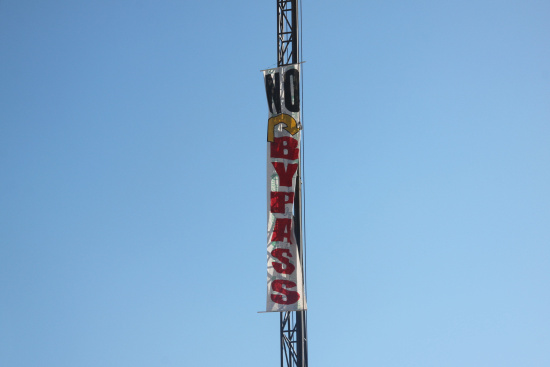 Press Release from protest group (Little Lake Defenders):
Work was disrupted yesterday (6/20) at the Willits Bypass construction site when a protester unfurled a banner reading, "NO BYPASS" from the top of a 150 foot crane used to drain the Little Lake Valley wetlands.

Yesterday's banner drop from the crane is the latest in a series of direct actions organized by the group "Save Our Little Lake Valley". Past actions have included road-side rallies, multiple tree-sits, lock-downs to construction equipment, and general civil disobedience at the construction site. Go to Forestdefender's blog for a timeline and more photos of Willits Bypass protests.

At today's action and on June 12th, activists disrupted installation of wicks used to drain the wetlands. CalTrans plans to drain Little Lake Valley's wetlands with over 55,000 wicks as part of their plan to re-route Highway 101 around Willits.

Willits residents list a number of reasons they are taking direct action to stop the construction of the Willits Bypass. Many residents are certain the re-routing of the 101 will not only destroy the wetland ecosystem of Little Lake Valley, but also fail to alleviate traffic congestion while damaging local businesses who depend on business from through-traffic.

The crane banner action happened one day before a lawsuit against CalTrans for violations of NEPA and the Clean Water Act will be heard in federal court in San Francisco. Save Our Little Lake Valley has asked for opponents of the Bypass to meet outside the Federal Courthouse in San Francisco on Friday June 21st.