UPDATE 6/25: Arcata City Council Reaction to Finger Tragedy?
# # # # #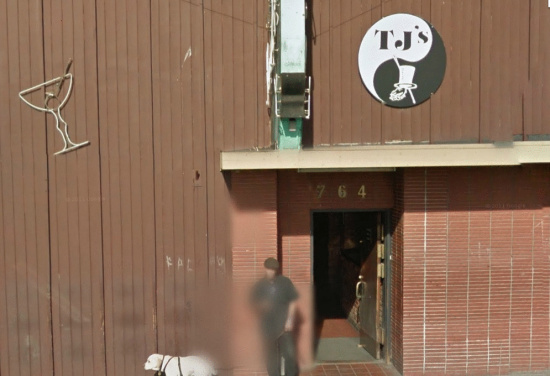 Screengrab from Google Earth Street View of the front of Toby and Jack's. The flagpole holder is directly above the dog near the corner of the overhang.
A horrifying accident on the Arcata Plaza left the victim without a ring finger. According to Sgt. Keith Altizer of the Arcata Police Department, a call came in about 4:30 P.M. yesterday afternoon. He explained that a game locals play is to "try to flick quarters" into a flag holder outside of Toby and Jack's bar. "This subject decided to stuff one in there." The victim grabbed the holder. As he dropped from the holder, his ring caught and the finger was pulled off. He was taken by ambulance to Mad River Hospital.
A photo sent in by a reader [Maciek Sulczynski] of the incident (warning: only for those with strong stomachs) is below.
UPDATE: The photo is by John Mcclurg.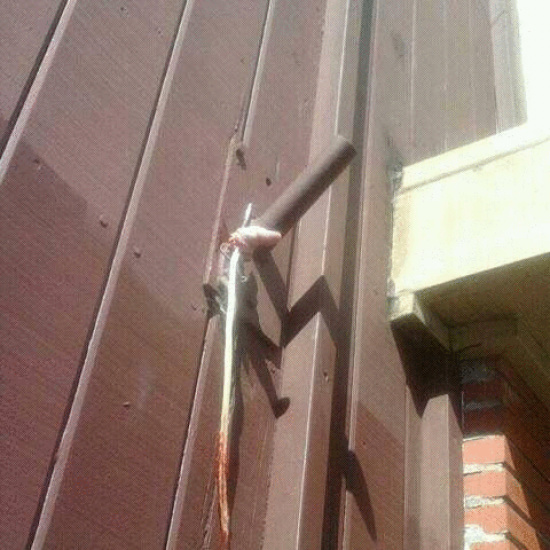 The white ropelike object is actually a tendon. Photo: John Mcclurg.