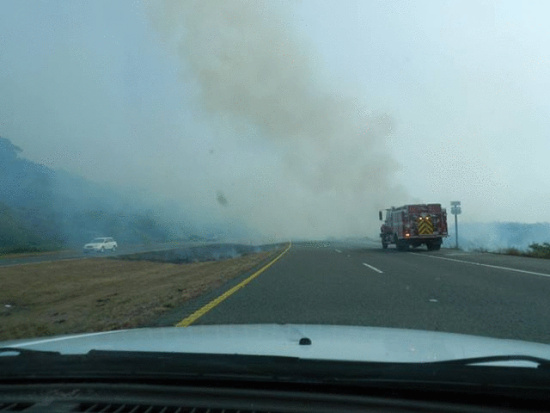 Photos by Sara Ware Blinn
UPDATE 5:30 P.M.:CHP dispatch is reporting the fires are mostly contained but that Cal Trans will provide traffic control for the west lane southbound for approximately "four hours."
UPDATE 4:52 P.M.: CHP dispatch is now reporting that there are nine fires in the center divide and the west side of the road.
Original post below————————————————————————
Scanner traffic indicates that "multiple fires" have been reported between Murray Rd. and Clam Beach. Multiple fire crews have been asked to respond. At least some of the fires are near the southbound lanes of Hwy 101. Aircraft response is being held back because of heavy fog. There are reportedly multiple fires along the bike path.
One responder stated he "counted at least nine fires."