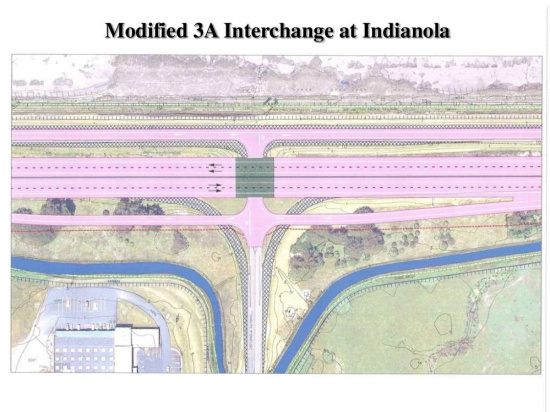 A Coastal Commission staff report published Friday argues against allowing Caltrans to build an interchange at Indianola Road — a key aspect of the Safety Corridor Improvement Project between Arcata and Eureka that the agency has been looking to do for many years.
Coastal Commision staff recommends that the commission, when it meets next month, decline to approve the interchange on the grounds that it constitutes an unacceptable fill of wetlands and does not take into account bicycle and pedestrian traffic between Eureka and Arcata.
Instead, staff is recommending the construction of traffic signals at the intersection of Highway 101 and Indianola Road.
Get the full Coastal Commission staff report here. Get a Caltrans presentation on the Safety Corridor project here.
Press release from Humboldt Baykeeper and the Northcoast Environmental Project:
Eureka, CA – A Coastal Commission staff report released on Friday, June 28, recommends against the proposed interchange at Indianola Cutoff. The California Department of Transportation (Caltrans) is seeking approval of the estimated $45-65 million project, which is supported by the Humboldt County Association of Governments (HCAOG), with the cities of Arcata and Fortuna dissenting.

The Commission's report, provided to assess consistency with the California Coastal Act, finds the project inconsistent with the Coastal Act's wetland fill policy since the proposed interchange at Indianola Cutoff would increase traffic capacity at that intersection. The report states that road expansions only qualify "if they are 'necessary to maintain existing capacity" and where there is 'no other alternative.'" Other conflicts with the Coastal Act are described, including failure to address bicyclist and pedestrian safety, the potential to induce growth, and "potential prejudice to sea level rise planning options." A final decision on the project will be determined by the Coastal Commission at an upcoming meeting, currently scheduled for July 10 in Ventura.

According to Humboldt Baykeeper Policy Director Jennifer Kalt, "the Coastal Act limits filling wetlands within the Coastal Zone to very specific purposes – and an interchange isn't one of them. This is something Caltrans has been informed of before, and yet they have continued to pursue the interchange."

Caltrans proposed six alternatives, including no project (leave as is); closure of all medians; traffic signals at six intersections; and their Preferred Alternative, a half signal at Airport Boulevard and an interchange at Indianola Cutoff. The project was proposed to address safety problems at the Indianola Cutoff and Mid-City Motor World intersections. However, many community members continue to speak out against the interchange for reasons ranging from its enormous cost, impact on coastal wetlands, and safety concerns relating to a likely increase in the speed limit on the corridor.

"Caltrans tells us there were over 40 alternatives studied, yet six were provided to the Coastal Commission for this hearing, and most of the alternatives struck us as highly undeveloped. One alternative proposed six traffic lights and seven lanes of travel. That doesn't really address the reality of traffic patterns or the needs of users here – surely they had better alternatives," stated Humboldt Baykeeper Executive Director Jessica Hall, "We would like to see them explore more realistic solutions."

Representatives from Humboldt Baykeeper and the Northcoast Environmental Center also expressed concerns about growth-inducing impacts an interchange could trigger, hazards to bicyclists, wetland losses, and the expenditure of significant funds without planning for sea level rise or safe bicycle-pedestrian access. "Public funding is scarce and should be leveraged to the greatest public benefit and consideration of long-term needs," said Kalt.

"We hope that Caltrans will go back to the drawing board and come up with something that will protect our precious coastal resources while improving safety and bike/ped access along the 101 Corridor. In the meantime, Caltrans should move forward with a stand-­alone project to put a half-signal at Airport Boulevard."

Dan Ehresman, Executive Director for the Northcoast Environmental Center, expressed his group's concern about the possible impacts to open space between Arcata and Eureka.

"This project does not address the very real threat of increased development pressures on forest and farmland along Indianola Cutoff and Old Arcata Road." Ehresman also cautioned that the closure of the medians and the resulting increase in traffic speeds would threaten the safety of cyclists. "In Caltrans' attempt to solve a safety problem for automobiles, they could in fact be making it more dangerous for those who travel by bike. Caltrans' project proposal fails to address this significant concern that has been raised by members of the public time and time again."

The Coastal Commission hearing is scheduled for July 10 in Ventura County. Caltrans has the option to postpone the hearing, which it did in May and June. In May, Humboldt Baykeeper urged Caltrans to postpone the hearing until it could be held in September in Humboldt County. Although Caltrans has given assurances that they will postpone the hearing, the project is currently on the Commission's July agenda.