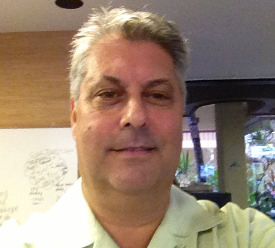 A full eight months after our former mayordomo Patrick Cleary went over to the Humboldt Area Foundation, Ferndale's Lost Coast Communications — home of radio stations KHUM, KWPT, KSLG and KXGO, as well as your Lost Coast Outpost — has hired a new general manager.
He is Tom Newhouse, most recently the sales manager at Hawaii's Pacific Media Group — a local radio group that includes, perhaps most notably, Big Island powerhouse KAPA-FM, which is more or less the KHUM of the islands (or vice versa). Pacific Media also runs BigIslandNow.com, an Outpost-ish news site, as well as stations and websites on Maui.
"I am very much looking forward to joining the team at Lost Coast Communications," Newhouse wrote the Outpost yesterday. "The combination of heritage radio stations, cutting-edge digital and online news sites mixed with a talented dedicated staff and a commitment to the community makes Lost Coast a great company with an exciting and vibrant future."
Newhouse has worked most jobs in radio, it seems. His resume shows he's done duty as a deejay, program director, salesman and sales manager. He's also run restaurants, and was a partner in a boutique advertising company. He's scheduled to begin work here June 24.
Cleary, who continues to be a major LCCI stockholder and member of its board of directors, told the Outpost earlier this afternoon that the company consciously took its time when searching for a new general manager. Over 80 qualified applications were submitted in response to the job notice — some of them "amazing," Cleary said — and the search team wanted to be sure that it picked a person who has not only a thorough understanding of the industry, but also of the company's relationship with the county.
"Tom has over 20 years experience and deep love of community radio," Cleary said. "His work with KAPA proves a keen understanding for programming that serves the area. I think he will fit in well in Humboldt County, and I am very excited for the things he will accomplish."
###
PREVIOUSLY: Humboldt Area Foundation Hires Patrick Cleary as New Executive Director