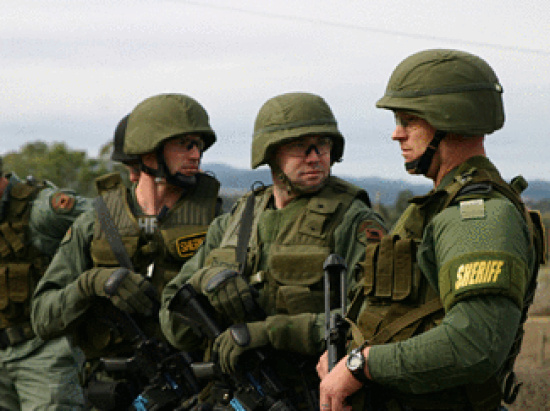 Stock photo of Sonoma Co. SWAT team from the Sonoma Co. Sheriff's page.
About 20 officers from Sonoma Co. Sheriff's Office will be arriving shortly to provide reinforcements to the Humboldt County manhunt for Shane Miller, a suspect in a triple homicide in Shasta CO., says Lt. Wayne Hanson of the Humboldt Co. Sheriff's Office. In total, that will make between 50 and 60 law enforcement personnel actively involved in the search.
According to Hansen, these officers arriving recently are mostly from the Sonoma Co. SWAT team. He says there are currently officers from Shasta SWAT team as well as members of the US Marshals, Cal Fire, Arcata Police Dept., Eureka Police Dept., Fortuna Police Dept., California National Guard, BLM, and, of course, Humboldt Co. officers.
Hanson says these officers are searching the wooded areas outside of Petrolia—south of Lighthouse Ranch Rd. (See map below the fold.)
Many of the community have voiced support for search efforts. Others have complained. In response, one comment on an earlier post points out that law enforcement is trying to expedite the capture of a murder suspect and a little inconvenience is not important. The writer argues [spelling/punctuation as written originally] "so they want motorists to open their trunk for a quick sec so they can look in and verify no one has murder suspect in there. big deal."
But other residents have voiced some opposition. Faye, who preferred to be identified by her middle name only, says that law enforcement had been to her home six times already by 3:30 P.M. on Friday. She writes, \[spelling/punctuation as written originally] "[I]t has been horrible. I am looking out my window as i type this, cause [law enforcement is] about to come back anytime. They come fully armed, every time i see them i put my hands up. I am scared….They dont point guns at me directly, but they have them in hand and ready…I do not feel more safe with them here. I feel invaded. I appreciate what they're doing, but coming to my house is redundant."
Tomorrow, at the Tour of the Unknown Coast, as bicyclists whiz down the long curving road, residents will have both tourists and law enforcement in abundance in the rural area. The question on most people's minds though is—where will the suspect be?
PREVIOUSLY: