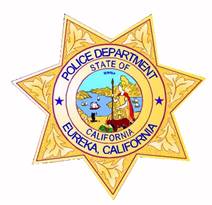 Press release from the Eureka Police Department:
On 05-10-2013, the Eureka Police Department conducted a "Minor Decoy Sting" throughout the City of Eureka. One clerk was cited and released.

The Minor Decoy Sting involves minors who work under the direct supervision of law enforcement; attempted to purchase alcohol from 20 retail licensees in the City of Eureka, and greater Eureka area.

Those who sold to the minor face a maximum of a $250.00 fine, and/or 24 to 32 hours of community service for a first violation. In addition, the Department of Alcoholic Beverage Control (ABC) may take administrative action against the business's liquor license. That may include a fine, a suspension of the liquor license, or the permanent revocation of the license.

The minor decoy was ABLE to purchase alcohol from the following business:

1). Gas-N-Go / Patriot (1711 4th Street)

The minor decoy was UNABLE to purchase alcohol from the following businesses:

1). Chevron (1125 4th Street)

2). Chevron (2806 Broadway)

3). Texaco (3505 Broadway)

4). Broadway Gas-N-Deli (4050 Broadway)

5). Texaco (1007 Broadway)

6). Fairway Plus Patriot (1723 Broadway)

7). Stop and Shop Market (39 Wabash)

8). Handee Market (3500 F Street)

9). Harris Street Market (411 West Harris)

10). Myrtle Ave Shell (1434 Myrtle Ave)

11). Courthouse Market (905 4th Street)

12). Fourth Street Shell (2111 4th Street)

13). Plaza 76 / Circle K (2480 6th Street)

14). 14th Street 76 (1411 Broadway)

15). California Market (2100 California)

16). Safeway (2555 Harris Street)

17). Harris Street Shell (111 West Harris)

18). South Broadway Patriot (4075 Broadway)

19). CVS Pharmacy (800 West Harris)

The Eureka Police Department would like to commend the 19 licensees whose employees properly checked identification and did not sell to the decoy.

This project is part of the Department of Alcoholic Beverage Control's Grant Assistance Program funded by the California Office of Traffic Safety through the National Highway Traffic Safety Administration.