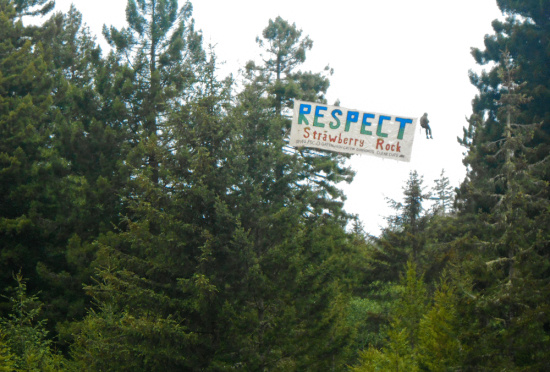 Photo provided by Earth First!
UPDATE 5/21:
While Earth First! indicated in the following press release that the Mayor of Trinidad has offered "vocal opposition" to Green Diamond's logging operations, the sitting mayor, Julie Fulkerson, says,
I am interested in the greatest protection possible and reasonable. My highest priority is consensus on community issues. I am listening to all the perspectives. The stronger the consensus is, the more likely we will see land set aside. No single interest group will decide the outcome. It is a process. I support protection of Strawberry Rock and as much surrounding area as feasible. I am pleased that Green Diamond stepped up to say that Strawberry Rock is recognized as a unique local landmark with lands and timber around the rock. As an aside, I am very disturbed that Strawberry Rock has been defaced with graffiti. I speak as an individual council member, not for the council.
Earth First! Humboldt Press Release:
Trinidad,CA: 9:00 am Earth First! Humboldt dropped a large banner 100 ft. up in trees that can be seen from Highway 101 just North of Trinidad, Ca.

The banner reads in large print "Respect Strawberry Rock", and below in smaller print, "Forest Stewardship Council and Sustainable Forestry Initiative Green-Wash Green Diamond's Clear-Cuts."

Green Diamond is the first U. S. based company that has received FSC certification while still practicing clear cut forestry methods, something that FSC is selling to the public as sustainable. For the SFI, industry created label, clear-cutting is status quo. Green Diamond holds both FSC and SFI certifications.

Despite much vocal opposition from the community, including the mayor of Trinidad, as well as a few dedicated tree-sitters maintaining tree-sits, Green Diamond Resource Company is continuing its clear-cutting, aka "even aged management" around Strawberry Rock. These plans include logging stands of residual old-growth and old second growth redwoods. Included in the forest is a rare and little understood species, Bishop Pine.

Green Diamond has a 45 year clear-cut rotation plan, including all of the land around Strawberry Rock.

Earth! First Humboldt is calling for Green Diamond Resource Company to create a special management zone of the Strawberry Rock area in which restoration forestry practices are followed include but are not limited to: not taking more than a third of the annual growth of the forest, protecting rare and endangerd species such as the Bishop Pine, Spotted Owl, and Marbled Murelet, and restoring mature forest habitat. The group plans on continuing to support as well as engage in the resistance to Green Diamond's destructive forestry practices, and will be hosting a skill building camp beginning June 14th called Redwood Coast Rendezvous.