Shane Miller is the cheery looking redheaded boy who has the friendly hands of a schoolmate on his shoulders He's right in the center of this 1980-81 cropped school picture for the Mattole Union. His younger brother is right below him. (Photo courtesy of the Mattole Valley Historical Society.)
According to Lt. Knight of the Humboldt Co. Sheriff's office, on the day after Sandy Miller and her two daughters, Shelby (age 8) and Shasta (age 4) were found dead of multiple gunshots, the suspect in their killings, Shane Miller spoke to a woman with whom he had once had a relationship.
Miller's vehicle had been spotted at the mouth of the Mattole River and reported to 911. (see map below) Sometime later, (the exact 911 call times have been requested from the Humboldt Co. Sheriff's office) Miller drove his Gold Dodge 2010 pickup truck into the town of Petrolia. According to Lt. Knight, he pulled up side by side with a woman he had a relationship with. He looked at her and said something to the effect of "Everything will be alright." When questioned later, the woman said, he seemed defeated not angry. (See earlier story about this here.)
Knight described a dramatic scene where the local Volunteer Fire Dept. activated NES, Neighborhood Emergency Services, a kind of neighborhood watch. As law enforcement converged on the remote area from agencies across Humboldt, dispatch kept receiving multiple calls from the Petrolia Fire crew telling them when Miller's car had passed the individual's driveways. With sirens and flashing lights, the officers raced down the winding roads following the information sent to them. (See earlier story here.) From the 911 calls, they could tell Miller was on the Mattole Rd. headed towards Honeydew. They knew when he passed one driveway but not the next.
Eventually, they found the truck abandoned. According to a press release, officers
…secured the truck, but waited until reinforcements and daylight arrived to begin searching. The initial search included scent-trained dogs, but no sign of Miller has been found. The search now includes dogs trained to find cadavers, in case Miller has killed himself.
Knight said, the NES was invaluable. "We wouldn't have found the truck if we hadn't had their help."
Knight told the LoCO yesterday, "We don't know if [Miller's] deceased. Friends and family strongly believe he's in the vicinity." Searches expanded yesterday though Honeydew into Ettersburg and into the King Range as the manhunt reached its one week anniversary.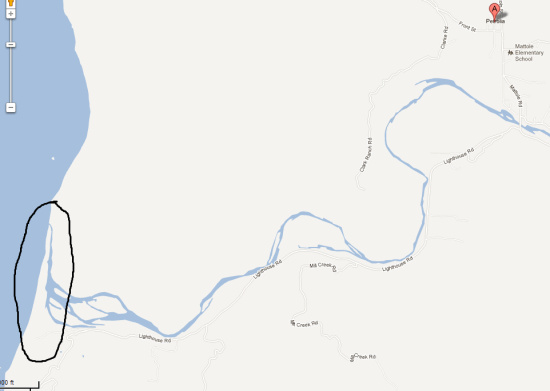 Circled area represents a very rough approximation of what is considered the mouth of the Mattole River.
PREVIOUSLY: