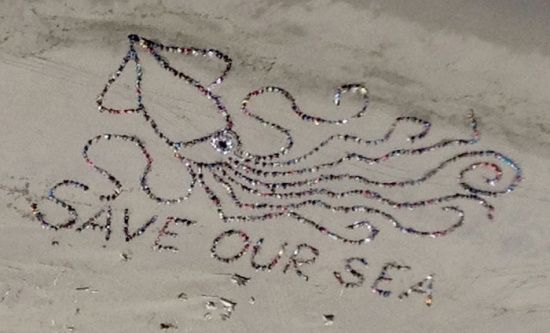 First, the bad news:
Attempt to decrease pollution and save sea life foiled (again) by plastic bag industry. Tired of the cost to wildlife, the expense of cleaning them up and the craziness of using a product designed to simultaneously last forever and be used a single time? Connect with Humboldt Baykeeper's Ban the Bag campaign.
What other kinds of trash show up most often on our beaches? Results from last year's International Coastal Cleanup (organized by Ocean Conservancy on the grand scale and coordinated locally by the Northcoast Environmental Center) have been released.
Even more challenging than ridding the ocean of cigarette butts and plastic waste? Halting climate change. But we'd better do something and fast. On top of a zillion other terrible consequences, a new study finds that 82 percent of California's 121 native fish species will vanish if we don't — including our region's coho salmon, most runs of steelhead trout and Chinook salmon.
Some better news:
But, hey! In the meantime, while we still have salmon, Target has pledged to not sell the genetically modified version of the revered fish. That's a good thing.
A new scientific ranking of U.S. states' ocean protection has California in the number two position, thanks to the success of the Marine Life Protection Act. Sadly, 15 coastal states have no protection at all.
Cool stuff
You can tour Humboldt Bay's oyster beds now!
You can also tour the Lanphere Dunes — and this is one of the only ways to tour the Lanphere Dunes on Saturday, June 1 (tomorrow) from 10 a.m. to 1 p.m. Coastal Naturalist Rachel Oliff will provide an in-depth look at the plants and ecology of the Lanphere Dunes Unit of Humboldt Bay National Wildlife Refuge. The walk will help participants understand how 30 years of coastal restoration efforts have helped conserve the amazing diversity of habitats found in the Lanphere Dunes. Meet at the Pacific Union School at 3001 Janes Road in Arcata.
Speaking of Friends of the Dunes, on Thursday, over 900 Humboldt County elementary school students celebrated Ocean Day, a state-wide marine debris education program funded by the California Coastal Commission and coordinated in the area by Friends of the Dunes and BLM. The day started with beach clean-up and invasive plant removal, followed by forming a Giant Humboldt Squid – and important message! – on the Mike Thompson Wildlife Area of Humboldt Bay's South Spit.
And thus, the circle is complete. Go, kids!